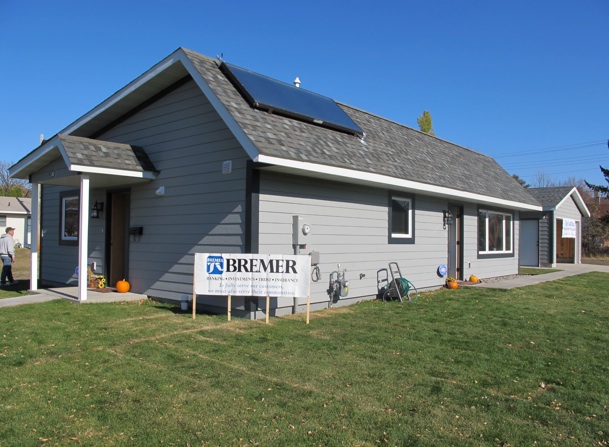 One of the key goals of the Solar Decathlon – the biennial competition that challenges university students to design, build, and operate solar-power houses – is to inspire Decathlon participants and their university colleagues to apply their creative energy and technological expertise in the real world.
That is what has been happening at the University of Minnesota, which competed in the 2009 Solar Decathlon with an entry called ICON Solar House. ICON, which placed fifth out of 20 contestants, included about 550 sq. ft., R-50 exterior walls, and an R-70 gabled roof covered with solar panels. It was an extremely energy efficient, if relatively expensive, prototype. The design concepts embedded in ICON, though, are finding life well beyond the home's Decathlon debut on the National Mall in Washington, D.C.
From the drawing board to move-in day
Two College of Design classes at the university's School of Architecture collaborated with East Central Habitat for Humanity and the Episcopal Church in Minnesota to develop two sets of construction documents for net-zero-energy homes that meet Habitat criteria for safety and affordability. Design and construction concepts developed for ICON also are baked into the plans, which Habitat or Humanity International will promote for use by its 1,600 affiliates nationwide.
The design-and-construction team celebrated the completion of one such project in late October, billing it as the first NZE Habitat home in Minnesota. The owner of the home, a single mother with two teenage daughters, purchased the house for about $130,000 with a no-interest loan and more than 250 hours of sweat equity.
Seeing the family move into the home helped the College of Design students understand the importance of the work they did on the project, Dan Handeen, a lecturer in the School of Architecture and research fellow in the Center for Sustainable Building Research, College of Design, told the school's news service. "In this particular situation our students recognized that every decision they made, every line they drew, would have extended impacts on people's lives—people that they had met," Handeen said.
Habitat said it will use the prototype, and the students' designs, to develop a case study for a statewide conference for affiliate chapters in March 2012.
Weekly Newsletter
Get building science and energy efficiency advice, plus special offers, in your inbox.