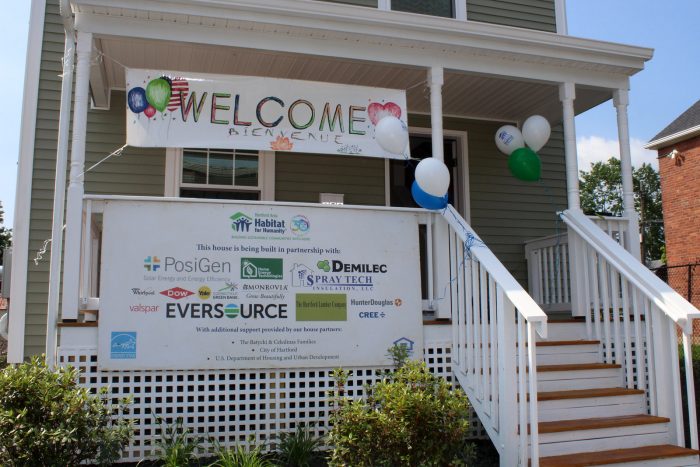 EDITOR'S NOTE: This post is part of a series in GBA's new Expert Exchange program. We will address a quarterly set of topics, the first of which is "Getting to Net Zero." The series will culminate with a webinar panel discussion among contributing experts.
When Habitat for Humanity North Central Connecticut (aka Hartford Habitat) started planning its first zero-energy home in 2017, the regional housing provider had been building Energy Star–certified houses for over a decade. The Habitat management team recognized early on that a truly affordable home isn't one that just costs less to build, it needs to cost less to live in too. Striving for net-zero was an obvious next step. Director of Construction Kris McKelvie says, "We realized that it's not a huge up-front cost for Habitat, but it provides a great benefit in both cost and health for our homeowners."
After committing to certify this latest project as a DOE Zero Energy Ready Home (ZERH), Hartford Habitat set a goal to create the most energy-efficient affordable house possible. And it paid off—the house won 2019 Energize CT Awards for lowest cost per sq. ft. and lowest HERS rating before renewable energy, plus the project earned top honors in the 2020 DOE Housing Innovation Awards. More importantly, it's now an extremely comfortable home for a family of four, and it has an estimated annual energy cost savings of $4000, compared to an average house.
If you consider the costs associated with making a typical home more energy efficient, the extra labor it takes to get the insulation and air-sealing details right is often one of the biggest factors. This is one place where an organization with a volunteer labor force has an advantage. The crew on the Hartford Habitat house kept caulking, taping, and foaming until they brought the airtightness to an impressive 1.12 ACH50—well below the 2 ACH50 target for a Zero Energy Ready Home in this climate zone.
Getting the details right
For Kris and his team, choosing smart details that make it much easier to build an energy-efficient house is the key to their success. One of those details is the factory-made insulated foundation panels they used for the basement. Superior Wall craned the pre-cast panels into position in a matter of hours, allowing the crew to quickly move on to tasks more suitable for volunteers. The home's Superior Wall system includes built-in R-10 extruded polystyrene insulation, but volunteers added fiberglass batts to bring the basement walls up to R-31 (photo below).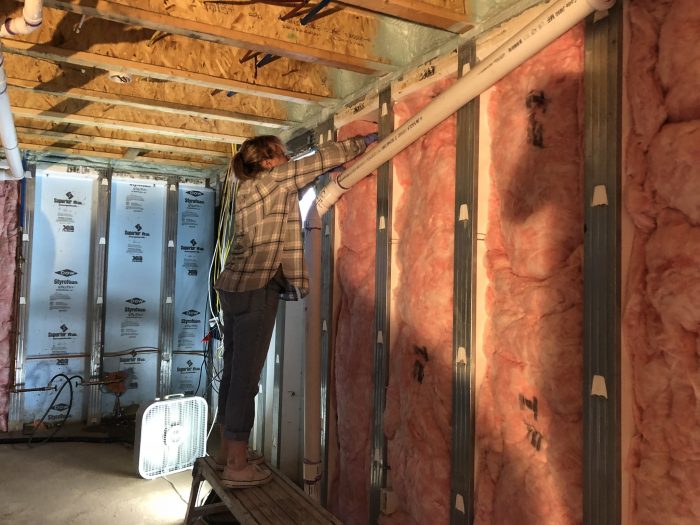 ZIP System R-sheathing is Hartford Habitat's preferred exterior-insulation detail for above-grade walls because the skill level required to install the panels is like conventional sheathing, making it a good fit for the volunteer crews. With 5-1/2 in. of open-cell foam in the 2×6 wall cavities and the 1-1/2-in. Zip System panels outside, the first and second floors also come in at an R-value of 31.
Twenty inches of blown-in cellulose—one of the most cost-effective and easy-to-install insulation materials—fills the unfinished attic, bringing its R-value up to 60. Raised-heel trusses allowed the installers to keep the cellulose close to its full depth all the way to the edges of the roof.
High-efficiency HVAC
Though Hartford Habitat has seen good energy savings by installing high-efficiency gas boilers in past houses, the organization decided to push the HERS rating into negative numbers on this project by going all-electric, topping the home with a 7.75-kW solar PV array and keeping power demands low with high-efficiency appliances and HVAC components—including two Fujitsu minisplits and an A.O. Smith heat-pump water heater.
This first zero-energy home was such a great success that Hartford Habitat plans to build all its future projects to these performance levels. Two more of the organization's recently completed houses are about to be DOE certified, and another net-zero project is under construction, which means three more families will soon get to experience the joys of owning and living in a high-performance home.
________________________________________________________________________
 Rob Wotzak is a remodeling carpenter and freelance writer in New Milford, CT. Photos courtesy of Hartford Habitat.

Weekly Newsletter
Get building science and energy efficiency advice, plus special offers, in your inbox.