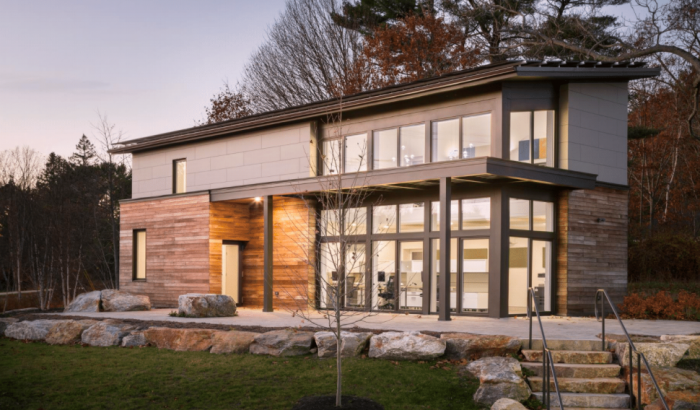 If there is one thing you can count on from Chris Briley and Phil Kaplan, it's a good cocktail. The hosts of Green Architects' Lounge didn't disappoint when they joined the show on August 27th, and introduced us to the Paper Plane. "I used Braulio instead of Amaro Nonino," Chris said, "but you could use almost any Italian Amaro. I also went with 1/2 oz. rather than 3/4 oz. of lemon juice, and added a dash or two of cranberry bitters that Phil made." Yeah, that's the kind of guys they are.
After toasts, the Maine-based architects launched into the night's topic: "Siding Options With Sustainability in Mind." They laid out the benefits and drawbacks of natural and treated woods, highlighting the importance of sourcing from either local or FSC-certified stock. Although wood is typically their first choice, they also regularly spec composites that include Hardie, Nichiha, Certainteed, and Viroc products, among others. They gave us their thoughts on vinyl, masonry, metal, and stucco, and shared a number of inspiring projects to depict those materials in use. They also discussed appropriate finishes, and pointed to a few specialty treatments including shou sugi ban. (Phil even got a plug in for his pet product: pine tar.)
Perhaps the biggest takeaway from the night was the chart they use to categorize the pros and cons of each material. The at-a-glance simplicity of it is helpful, educational, and—according to Emily—possibly marketable. 
If you've ever wondered about the ins and outs of choosing siding for a project, this discussion is for you.
Enjoy the show!
Join us on Thursday, September 3, from 6 to 7:30 pm, when Mason Lord shares a comprehensive look at Hudson Valley Preservation's (HVP) latest ongoing project—a deep-energy retrofit of a 200-plus-year-old timber frame house in Washington Depot, CT. The primary goal is to make it a net-zero-energy home. Because of its age and condition a deep-energy retrofit was the only way to get there. Mason's documentation of the construction stages and details make it an informative case study. He will share insights into how to keep an old house standing and performing at levels that reflect today's green building landscape. His presentation promises to be a thought-provoking look at how time affects a home, and how to prepare it for the future. (See Mason's bio below.)
Use this link to register for The BS* + Beer Show.
Mason founded HVP in 1991 with a vision of integrating assessment, design and building knowledge while maintaining close client relations and communication. After obtaining a degree from Duke University, he apprenticed as a restoration craftsman with the National Trust for Historic Preservation. His passion for quality construction and historic preservation has been critical for HVP's award winning recognition along with his combined knowledge of architecture, engineering, traditional trades and history gained from nearly 40 years of experience with old and new buildings. Mason brings a unique approach to every project by acquiring a thorough understanding of the existing conditions of a structure and can visualize the future potential embodied within.
The BS* + Beer Book Club
Because the hosts of the BS* + Beer Show all love to read, we thought we would celebrate the authors in our industry by adding a book club to the show every few months. We'll announce the book, give you a few months to get it and read it, if you haven't already, and conclude with a BS* + Beer Show episode where we will invite the author to join us, present, and take questions.
The first book we'll read is "The New Carbon Architecture" by Bruce King. Bruce will join us on the show on September 24.
Here's a bit from Bruce's publisher:
A tour de force by the leaders in the field, The New Carbon Architecture will fire the imagination of architects, engineers, builders, policy makers, and everyone else captivated by the possibility of architecture to heal the climate and produce safer, healthier, and more beautiful buildings.
I hope you will join us on September 24th as well.
__________________________________________________________________________
-You can contact Kiley Jacques at [email protected]. 
Weekly Newsletter
Get building science and energy efficiency advice, plus special offers, in your inbox.