Mold comes from moisture problems. So where do moisture problems come from?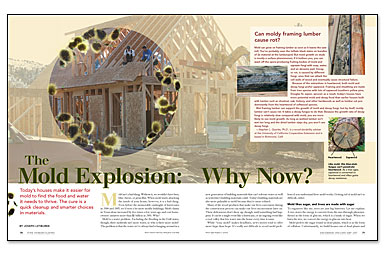 Today's houses seem highly susceptible to mold. Building scientist Joseph Lstiburek explains why: wood products that can't tolerate mold; houses that don't dry out properly; hollow walls stuffed with insulation; and how the way residents use the mechanical systems affects the house's envelope. Lstiburek says that the fix to mold problems is clear: Water problems must be repaired quickly to prevent water from entering today's high-performances houses. The article includes sidebars on whether moldy framing lumber can cause rot, how mold can make residents sick and how to remediate a mold problem.
Weekly Newsletter
Get building science and energy efficiency advice, plus special offers, in your inbox.
This article is only available to GBA Prime Members
Sign up for a free trial and get instant access to this article as well as GBA's complete library of premium articles and construction details.
Start Free Trial
Already a member? Log in