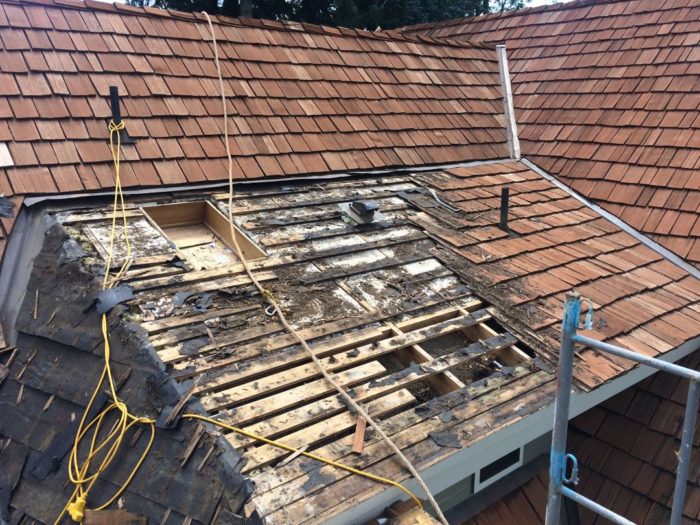 Chuck Kramer's home in Enumclaw, Washington, was built in the 1980s with unvented cathedral ceilings, insulated with cut-and-cobble rigid foam insulation and roofed with cedar shakes. A small section of the roof is showing signs of water damage, and now Kramer is trying to find a way of repairing the problem area without tearing into the rest of the roof.
As Kramer explains in a Q&A post at Green Building Advisor, the trouble seems to be in an area measuring about 150 square feet. This part of the roof, with a slope of 4-in-12, is surrounded by two other roof areas with a 12-in-12 pitch.
From inside to outside, the roof assembly consists of 2×6 tongue-and-groove boards, 15-pound asphalt felt, 2×6 rafters, 1×4 skip sheathing, and cedar shakes interwoven with strips of 15-pound asphalt felt. The rafter cavities are insulated with two 2-inch-thick layers of foil-faced polyisocyanurate foam insulation and 1 inch of Styrofoam beadboard.
"Most of the roof is 12/12 pitch," he writes. "A small section above two bathrooms is 4/12, with two 12/12 pitches joining two sides with valleys. In that section, a skylight was cut in after initial construction, maybe in the late '80s… The 1x4s [the skip sheathing] and a small part of the tops of the rafters are damaged by rot, particularly badly around the skylight."
Kramer doesn't see how he can increase the thickness of the low-slope portion of the roof without affecting the steeper parts of the roof. His proposed fix is to pull off the 1×4 skip sheathing, add a 1/2-inch layer of OSB with a peel-and-stick membrane, then a layer of 30-pound felt, and metal roofing. The 5,000 square feet of 12-in-12 roofing will not be affected.
Inside, he's improved the bathroom fan capacity and covered the tongue-and-groove ceiling with drywall.
"In the long run,…
Weekly Newsletter
Get building science and energy efficiency advice, plus special offers, in your inbox.
This article is only available to GBA Prime Members
Sign up for a free trial and get instant access to this article as well as GBA's complete library of premium articles and construction details.
Start Free Trial
Already a member? Log in