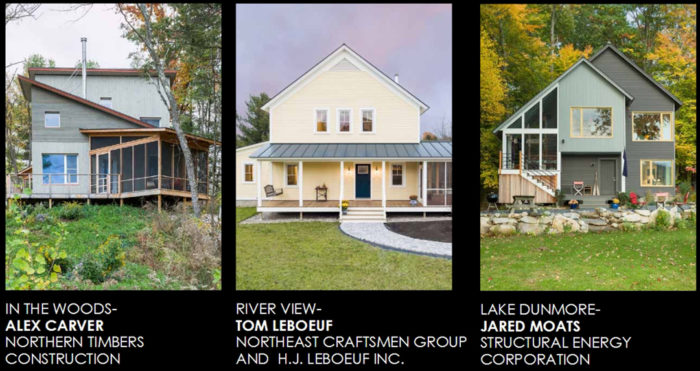 Efficiency Vermont, a nonprofit agency that provides financial incentives for energy-efficiency improvements by homeowners, builders, and businesses in Vermont, has developed a certification program for new homes called the High Performance Certification. The aim of the certification program is to encourage the construction of new homes that are "ready … for net-zero energy use, should you decide to add on-site renewable energy in the future." Builders who enroll in the program are eligible for cash incentives of up to $2,000 per home.
Here is Efficiency Vermont's list of minimum specifications for homes seeking their High Performance Certification:
Foundation wall insulation: R-30.
Slab-on-grade perimeter insulation: R-30.
Horizontal insulation under a slab: R-20 for an unheated below-grade slab; R-30 for an unheated slab on grade; R-30 for all heated slabs.
Floor assembly insulation (when exposed to the weather): R-40.
Above-grade wall insulation: R-40.
Ceiling insulation (sloped or flat): R-60.
Insulation installation quality: Grade I.
Blower-door test results: Less than or equal to 1 ach50.
Window U-factor: U-0.21 maximum.
Door U-factor: U-0.25 maximum.
Heating and cooling equipment: Must be Energy Star certified.
Minimum AFUE for boilers: 94%.
Mechanical ventilation system: Must comply with ASHRAE 62.2.
Water heater: Must be Energy Star certified.
Lighting: At least 95% of light bulbs must be Energy Star certified.
Appliances: Must be Energy Star certified.
For cold-climate builders, hitting these targets should result in a comfortable house with very low energy bills.
At least one Vermont architect has jumped on the bandwagon
One architect who has eagerly embraced the specifications of Efficiency Vermont's High Performance Certification program is Jean Terwilliger from Vermont Integrated Architecture in Middlebury, Vermont. According to Terwilliger, "Peter Schneider, who helped develop the specifications, said that if you stick to to this envelope package, it's safe to just use minisplits for heating without a backup heating…
Weekly Newsletter
Get building science and energy efficiency advice, plus special offers, in your inbox.
This article is only available to GBA Prime Members
Sign up for a free trial and get instant access to this article as well as GBA's complete library of premium articles and construction details.
Start Free Trial
Already a member? Log in