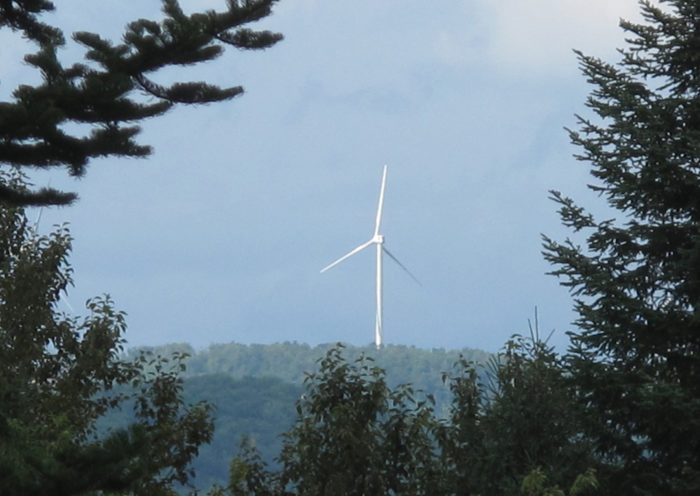 I live in Wheelock, Vermont, a town with 598 residents. Our town is so small that we have neither a post office nor a zip code. To get my mail, I have to travel two miles to the post office in Sheffield, our larger neighbor. (Sheffield has a population of 704.)
There's a $90 million construction project underway in Sheffield this summer. In its entire 200-year history, the sleepy town has never seen anything like this.
A company called First Wind is installing 16 utility-scale wind turbines, each 420 feet tall, on a Sheffield ridgeline. When I drive down the gravel road from my house to the post office, there's a spot on the road where I can glimpse the new turbines on the horizon. When they go online next winter, the turbines will generate 115,000 megawatt-hours per year — enough electricity to meet the needs of every home in Caledonia County.
Deep snow, plenty of moose, and four tranquil ponds
The wind farm is located on Duck Pond Road. To those of us who live nearby, Duck Pond Road, a gravel road that passes over Sheffield Heights, is the back way to Barton. Most of the road passes through undisturbed woods, and until this summer, the road got almost no traffic. There are a handful of hunting camps on Duck Pond Road; none of them have electricity.
Over the past few decades, I've enjoyed snowshoeing on the west side of Duck Pond Road, where it's fun to travel between the area's four high-altitude ponds. The last time my friend Bill and I went snowshoeing up there, we didn't see anybody all day. But we did see plenty of moose tracks.
The development now under way in Sheffield is the first commercial wind development in Vermont in 10 years, and the…
Weekly Newsletter
Get building science and energy efficiency advice, plus special offers, in your inbox.
This article is only available to GBA Prime Members
Sign up for a free trial and get instant access to this article as well as GBA's complete library of premium articles and construction details.
Start Free Trial
Already a member? Log in