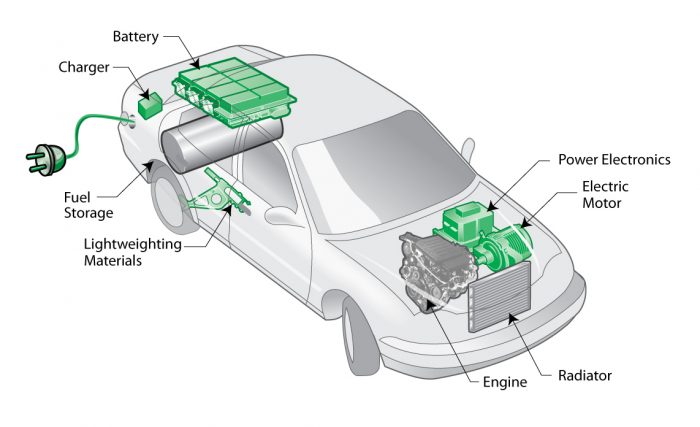 A typical plug-in hybrid car can travel for 20 to 55 miles on battery power. When its batteries become depleted, the car's internal combustion engine takes over. As most people realize, a plug-in hybrid car has a significantly lower level of carbon emissions than a conventional gasoline-powered car. Many plug-in hybrid owners find that they can make their daily commute to work on batteries alone, so one tank of gasoline can last for months.
A plug-in hybrid car is much cheaper to purchase than an all-electric vehicle, because it requires a much smaller battery than an all-electric car.
What's the best path to net zero?
Electric vehicles (EVs) are supposed to be getting cheaper, as manufacturers implement the well-known efficiencies of mass production. In spite of recent price reductions by a few manufacturers, however, electric cars have mostly been getting more expensive lately, due to (1) ever-larger battery sizes and (2) a world-wide shortage of the minerals needed for manufacturing batteries.
We all want to see a reduction in carbon emissions, but the best path to achieve those reductions is a matter of debate. According to some policy wonks, the U.S. government decision to subsize the purchase of EVs may be misguided.  It might make more sense to eliminate subsidies for EVs and instead to offer subsidies for the purchase of plug-in hybrids.
The argument that "hybrids are better than EVs" is often associated with Toyota Motor Corporation, since several prominent Toyota managers have been pushing it.
Battery supplies are limited
A strong argument in favor of hybrids and plug-in hybrids (as opposed to all-electric vehicles) is made by James Gilboy, the author of "Toyota Is Right: We Need More Hybrid Cars and Fewer EVs." According to Gilboy, "Hybrids have a bigger role to play in decarbonization than EVs will for…
Weekly Newsletter
Get building science and energy efficiency advice, plus special offers, in your inbox.
This article is only available to GBA Prime Members
Sign up for a free trial and get instant access to this article as well as GBA's complete library of premium articles and construction details.
Start Free Trial
Already a member? Log in