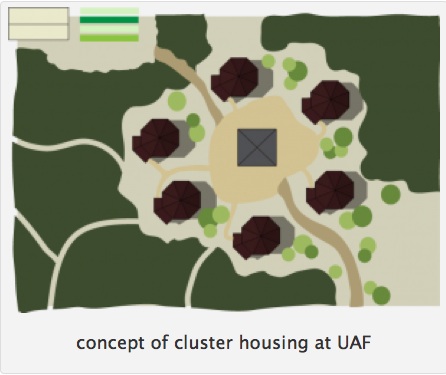 On October 21, the University of Alaska Fairbanks and the nonprofit Cold Climate Housing Research Center (CCHRC) will announce the winner of a design competition aimed at advancing green residential construction in cold climates. The contestants are teams of UAF students, and their assignment is to develop green design strategies for building net-zero-energy housing in an Arctic environment.
The winning team, to be selected by CCHRC experts, will be honored during an award ceremony. But the real prize will be the incorporation of at least some of the winning team's proposals in the development of a "sustainable village" on the UAF campus.
The cold road ahead
As UAF explains it in a press release, the goal is to build the first cluster of four four-bedroom homes by the summer of 2012 and incorporate what is learned from each phase of the project into the design and construction of successive phases. While a lot is already known about how to make buildings in Arctic climates comfortable, the UAF Sustainable Village, as the project is called, aims to incorporate a wide range of green building practices.
"We still need to solve critical design and technology problems related to building in this climate. The Sustainable Village will help solve those problems, while providing hands-on learning and fostering a community of students who are committed to sustainability," said Jack Hébert, president and CEO of CCHRC.
The CCHRC/UAF team will focus on several issues, including siting, materials, wastewater, and power, with the aims of minimizing environmental impact and maximizing energy efficiency. The goal is to achieve net-zero energy in buildings with low construction, operating, and maintenance costs.
The village will incorporate renewable energy sources such as solar, wind, and biomass, and will use local and recycled materials whenever possible. Researchers also want to test innovative wastewater systems, including gray-water recycling and on-site sewage treatment.
Weekly Newsletter
Get building science and energy efficiency advice, plus special offers, in your inbox.