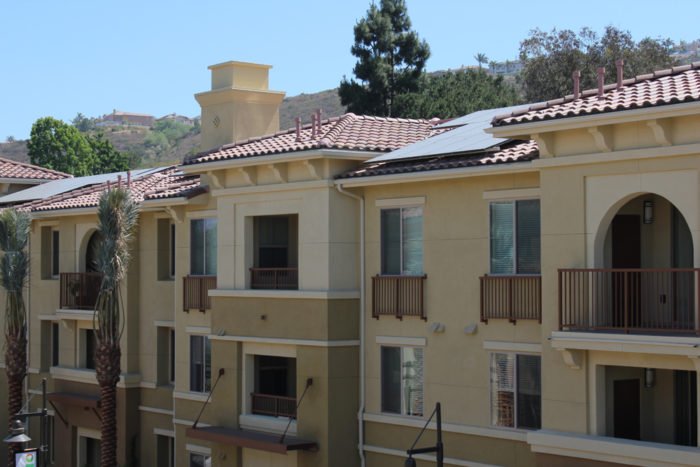 Florida has the first net-zero-energy bank in the country. Illinois will apparently get the first net-zero energy drug store later this year. And it looks like California has the first net-zero apartment complex in which residents can control their thermostats with a smart phone app.
Solterra EcoLuxury Apartments, a 114-unit project in San Diego, welcomed its first residents in May.
Solterra is powered by a 338-kW photovoltaic (PV) system that includes 1,380 Kyocera PV modules mounted on apartment roofs, carports, and a ground array. H.G. Fenton Co., the developer, said the complex is the first in San Diego to meet its annual energy needs with solar energy.
Instant access to energy data
According to Kyocera Solar, the apartment complex is the first in the United States to give residents instant access to energy consumption data via a smart phone app and adjust their thermostats accordingly.
Other green features listed by Solterra include:
Garages that are pre-wired for charging electric vehicles.
Synthetic turf instead of real grass to reduce the need for irrigation water. Where irrigation is required for drought-tolerant plants, controllers have on-site weather stations to improve efficiency.
Low VOC paints.
High SEER air conditioning units as well as ceiling fans to reduce cooling costs.
Community recycling.
A location that makes many employers and retail outlets within walking distance.
A salt-water pool that eliminates exposure to pool chemicals.
Rents up to $2,255 a month
Solterra seems to be playing to upscale renters looking for attractive amenities in addition to low or nonexistent utility bills.
Its web site touts features like a gift-wrapping station, free wi-fi hot spots, valet dry cleaning, poolside towel service, and a private stand-up tanning salon.
Apartments range from 1-bathroom, 1-bedroom units of about 750 sq. ft. with rent that starts at $1,495 a month to 2-bedroom, 2-bath models of 1,100 sq. ft. renting for as much as $2,255 a month. The four-building complex, which is still under construction, is located in the Scripps Ranch area of the city.
H.G. Fenton Co. described the San Diego housing market as "fairly tight," and said about 90% of the units have been leased.
Weekly Newsletter
Get building science and energy efficiency advice, plus special offers, in your inbox.