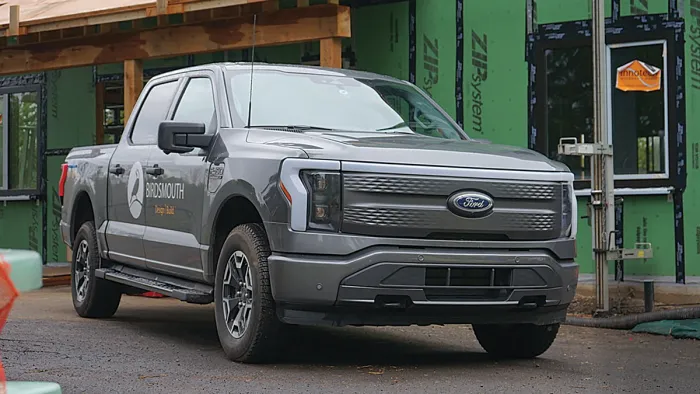 Our design-build firm strives to make our operations as low-impact as our homes. So when we were in need of a new truck, we weren't interested in purchasing a fossil fuel–powered vehicle. We opted instead for the new Ford F-150 Lightning, one of Ford's latest offerings in the EV market. It has turned out to be a perfectly capable solution for our company, while also offering benefits beyond what a typical truck can offer.

We purchased a 2023 F-150 Lightning XLT for a base price of $68,443 and took advantage of a $7500 federal tax credit. With the savings in fuel costs (based on $4 per gal. of gas and $0.16 per kwh in Oregon), our calculations put the cost of ownership over five years at $14,257 less than that of the $65,000 gas-powered version of the F-150.
Because we're using this elec­tric vehicle on the job, power and range are important factors. The 98kwh battery has a rated range of 230 miles, but we have found that this varies depending on the type of driving (city miles yield much better efficiency than highway miles) and the outside temperature. Currently we are seeing anywhere from 1.6 miles per kwh to 2.9 miles per kwh, with an average of 2. ­Towing a fully loaded 12-ft. dump trailer led to our lowest battery efficiency; the highest included just a driver and a ladder. Other impacts to range include the number of people in the vehicle and whether climate control was used. Most of our projects are within a 40-mile radius, so range has not been a issue.
It takes eight hours to fully charge the truck from 25% with a 40A level 2 charger. Ford states that with a level 3 DC fast charger you can take a battery from 15% to 80% in 41 minutes.
Weekly Newsletter
Get building science and energy efficiency advice, plus special offers, in your inbox.
This article is only available to GBA Prime Members
Sign up for a free trial and get instant access to this article as well as GBA's complete library of premium articles and construction details.
Start Free Trial
Already a member? Log in