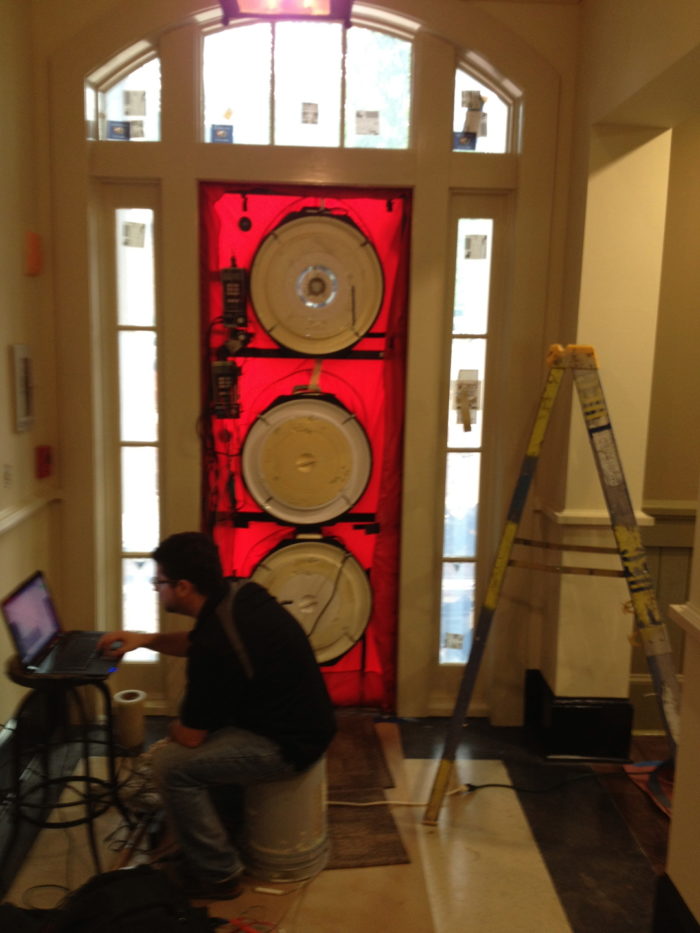 The 2013 ACI National Home Performance Conference, called Affordable Comfort until a few years back when the conference was renamed ACI, recently took place in Denver, Colorado. This year, the conference came complete with about six inches of snow in May — quite a shock for a transplanted Southerner.
With over 180 individual sessions and workshops to choose from, ACI is a daunting event, taxing the capacity of the geekiest energy nerds to maintain focus throughout the four long days of the conference. As with most events, the quality of presenters and presentations vary greatly, with some of the best sessions being poorly attended, and other, lesser quality talks resembling a game of sardines.
Of arguably equal or greater value than the educational sessions is the networking with like-minded energy professionals, ranging from dinner and drinks to late-night carousing at various events (if you were lucky enough to find them).
A few sessions that I found particularly interesting, in addition to the one on air flow testing I discussed in my last post, covered blower-door testing of multifamily buildings, HVAC quality control programs in development by the EPA, supplemental dehumidification systems, and an evening of Pecha Kucha talks.
Using a blower door to test a multifamily building
The session on multifamily blower-door testing addressed whole-building testing using multiple fans connected (either by cables or wirelessly) to a computer running software that controls the entire setup and records pressure and flows automatically.
Since I have done this before myself, it was a good refresher course, and much easier to follow than it would have been if I hadn't already had the experience. Probably the best tip I picked up was the suggestion to use a duct fan instead of a blower-door fan to test individual apartment leakage – it will usually provide enough pressure to get a good airflow reading and it's much lighter to lug around from door to door.
HVAC quality control
An EPA session on HVAC quality control ended up being a series of complaints about the poor state of the industry.
Following an overview of a 5-year old ENERGY STAR HVAC Quality Installation (QI) program, we learned that to date only 2,500 installations have been completed under its auspices. Comparing this to another statistic provided – 11,000 HVAC equipment swap-outs occur every day – it is clear that implementation of the HVAC Quality Installation program has a long way to go.
Dehumidification
The presentation on supplemental dehumidification was of particular interest to me. I am always looking for good ideas for my mixed humid climate, where bridge seasons require little heating or cooling but can create problems with excessive humidity in high performance homes.
Armin Rudd of the Building Science Corp. and Srikanth Puttagunta of Steven Winter Associates shared this session that proved to be quite informative as well as densely packed with data from an extensive study of the subject. Armin's section was based on a study he has been working on for several years, ASHRAE 1449, that analyzed ventilation, heating, cooling, and dehumidification in both homes and models in several climates.
I have to admit that I got a little lost in the details, but I did leave with two key points that resonated with me. First was the point that in humid climates, ERVs can actually increase the moisture level in a home when the relative humidity outside is higher than inside. This only reinforces concerns I have expressed previously on the real value of ERVs in moderate climates.
The second was that dehumidifiers that also provide outside air can also increase the indoor relative humidity due to the fact that the condenser turns off when the humidity reaches the desired level, but outside air can continue to flow through the unit where water in the coil and pan can recharge it with moisture, rehumidifying the house. Although dehumidifiers are highly recommended in humid climates, the point was made in this session that whole-house ventilation should be provide by a separate system for best performance.
Pecha Kucha
Finally, a group called the Trainers Consortium — a collection of almost too many smart building geeks — offered up a group of Pecha Kucha presentations, each consisting of 20 slides with a 20 second timer on each, for a total of six minutes and 40 seconds per presentation.
MOOCs (Massive Open Online Courses) were mentioned by several speakers as the method of choice for distributing training in the weatherization community. I have yet to MOOC myself, but expect that I will do so fairly soon.
An undocumented dance performance
The highlight of this evening session was J West and Amanda Evans' excellent rendition of the New Zealand All Black Rugby Team Haka War Dance. I had hoped to include video of their performance, but unfortunately it wasn't available. We'll have to do a better job documenting it next year.
As in past years attending ACI, I learned some good things, was frustrated by the number of competing sessions I wanted to attend, and attended some talks that did not meet my expectations. In general it was a worthwhile event that I will attend again.
Weekly Newsletter
Get building science and energy efficiency advice, plus special offers, in your inbox.