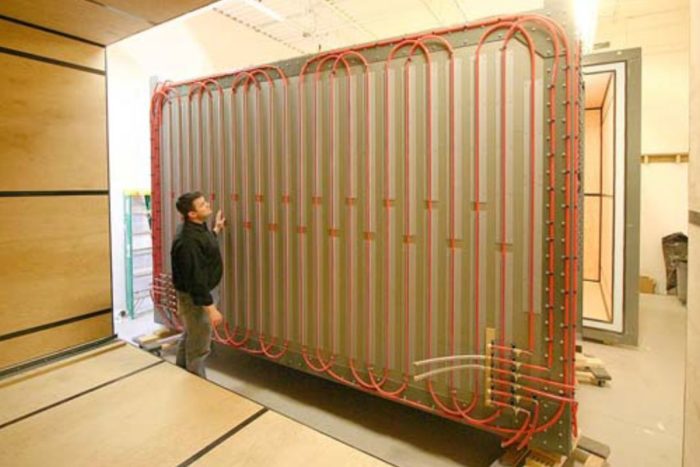 For the past five years, researchers at the Building Science Corporation (BSC) in Massachusetts have been testing the thermal performance of a variety of wall assemblies as part of an ambitious project to develop a new metric to replace R-value. (I last reported on the project in my August 2011 article, A Bold Attempt to Slay R-Value.)
BSC researchers recently released information on the multi-year project:
On August 1, 2012, BSC principal Chris Schumacher gave a presentation, "Thermal Metric Project: A year of progress," at the Westford Building Science Symposium.
On August 6, 2012, BSC released a three-page report, "Thermal Metric Research Project."
The BSC project is financed by a group of five insulation manufacturers and one trade organization — Dow, U.S. Greenfiber, Honeywell, Huntsman Polyurethanes, Icynene, and the North American Insulation Manufacturers Association — known collectively as the "Thermal Metric consortium." While BSC hasn't yet published a peer-reviewed paper reporting on their research project, the consortium has released enough details to draw a few conclusions.
Developing a new metric or label for wall assemblies
The BSC researchers set out to measure the rate of heat flow through a variety of wall assemblies under different conditions — for example, at different rates of air flow. The intent was to compare the performance of a wall when air was leaking through the wall with the performance of the wall without any air leakage. The researchers also hoped to test wall assemblies at different outdoor temperatures and to quantify the effect of thermal bridging.
Eventually, the BSC researchers hope to propose a new metric for wall assemblies — something akin to the NFRC label now found on windows. "The window industry was in disarray a decade and a half ago, and it was very difficult for practitioners to select windows," said Joseph Lstiburek, a principle of BSC. "Then…
Weekly Newsletter
Get building science and energy efficiency advice, plus special offers, in your inbox.
This article is only available to GBA Prime Members
Sign up for a free trial and get instant access to this article as well as GBA's complete library of premium articles and construction details.
Start Free Trial
Already a member? Log in