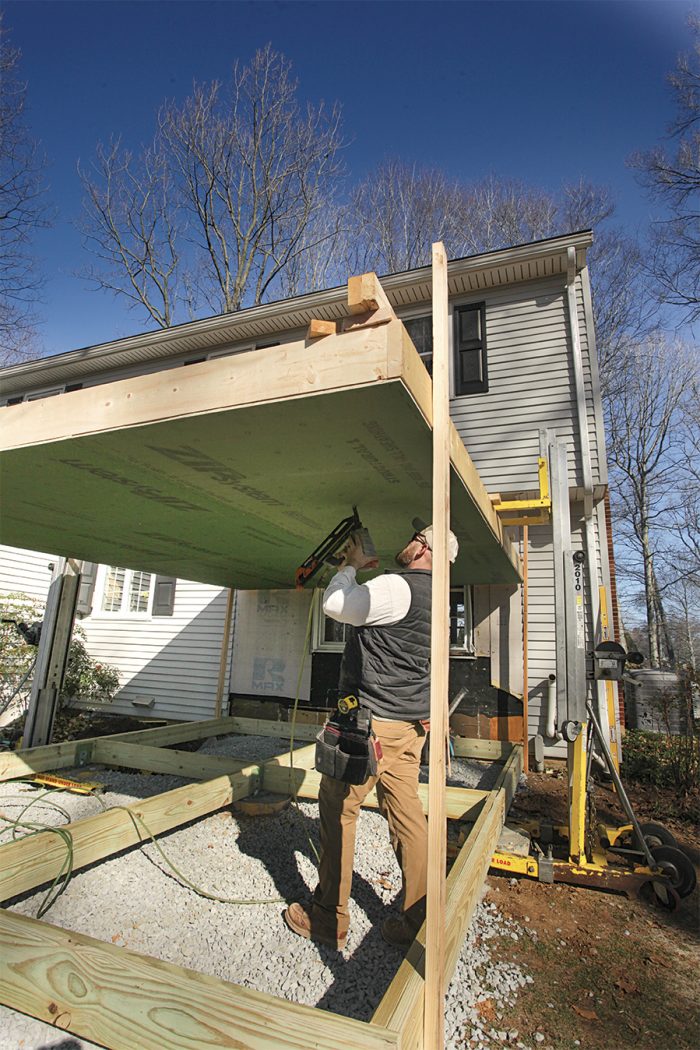 As a remodeling contractor, I often find myself with unique projects that take some outside-the-box thinking, and this job was no different. My customers wanted to add a 12-ft. by 16-ft. sunroom to the back of their home, and property lines, patios, gardens, and a septic system made it near impossible to get excavation equipment and concrete trucks to the location.
After some research and talking with inspectors and other respected contractors, I decided to build the addition on deck-style footings and a sub-frame of built-up pressure treated beams. This is not the standard foundation for sunrooms in our area, but the pros greatly outweighed the cons in this situation. We were able to hand-dig each footing 42 in. deep and place 18-in. concrete forms in the holes, then wheel the concrete around from the driveway to fill the forms. By forgoing excavating machines and distributing the soil from the footing holes to the gardens, we minimized damage to the yard and surrounding areas.
Since the addition is a conditioned space without a crawlspace or basement, we had to come up with a way to seal the floor from air and moisture. We placed a 6-mil polyethylene vapor barrier and stone on the ground under the floor system to help prevent ground moisture from wicking and diffusing up through the floor. We kept the floor approximately 6 in. above our stone and vapor barrier to allow some airflow under the space.
That just left air-sealing. After many hours of figuring, we devised a way to build a standard floor, raise it up, sheathe and tape it, and lower it back down. We rented two manually operated material lifts, each with a 1000-lb. load capacity, from our local supplier and used them to raise up the floor frame. Once it was up at…
Weekly Newsletter
Get building science and energy efficiency advice, plus special offers, in your inbox.
This article is only available to GBA Prime Members
Sign up for a free trial and get instant access to this article as well as GBA's complete library of premium articles and construction details.
Start Free Trial
Already a member? Log in