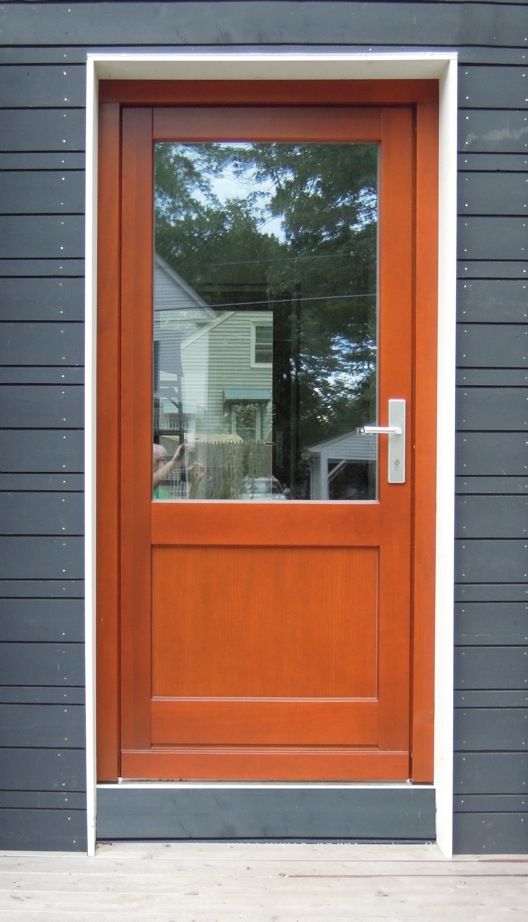 Almost every house has at least two exterior doors. A bad exterior door is ugly, leaky, made from materials that injure the planet, and has a low R-value. A good door is attractive, doesn't leak air, is manufactured with materials that are harvested or produced in a sustainable way, and has a decent R-value.
Some architects design the main entry door to impress visitors who walk up to the house and ring the doorbell. But very few visitors arrive on foot, so most homeowners no longer need to impress doorbell-ringers. These days, most visitors park in the driveway and enter a house by the side door, just like family members.
Door materials
There are two basic categories of exterior doors: solid doors (usually made of wood) and insulated doors (usually make of polyurethane foam protected by skins of steel or fiberglass).
Solid wood doors are expensive. If you can afford a solid wood door made out of a durable species of wood, and you like the look, that's probably the way to go. Note, however, that the R-value of a solid-wood door is lower than the R-value of an insulated steel door or fiberglass door.
If your exterior door is exposed to splashback, especially splashback mixed with rock salt (a problem in regions of the country where salt is spread to help melt ice), a steel door will eventually rust. That's why fiberglass doors are preferable to steel doors.
Does R-value matter?
A solid wood door will have an R-value of R-2 or R-3. An insulated steel or fiberglass will have an R-value that is twice as good — generally R-5 to R-6, but in some cases as high as R-7. European manufacturers of Passivhaus-certified doors advertise R-values as high as R-11.
Energy Star doors without a glass…
Weekly Newsletter
Get building science and energy efficiency advice, plus special offers, in your inbox.
This article is only available to GBA Prime Members
Sign up for a free trial and get instant access to this article as well as GBA's complete library of premium articles and construction details.
Start Free Trial
Already a member? Log in