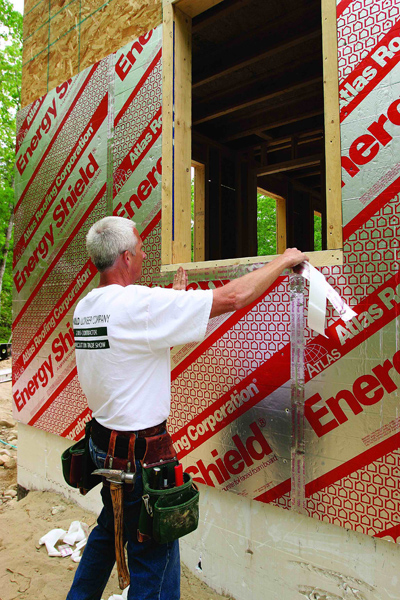 UPDATED and CORRECTED on 9/22/2011
Are you ready for the 2012 code? Each revision of the International codes tends to ratchet up energy performance requirements, and the 2012 revision is no exception.
Although its adoption may be a long ways off in some jurisdictions — after all, many rural areas of the U.S. still have no building codes at all — the 2012 International codes may become law in some areas as soon as next year.
What's new?
The 2012 code requires more insulation, a tighter envelope, tighter ducts, better windows, and more efficient lighting than the 2009 code.
Here is a summary of the important changes for residential builders in the 2012 International codes:
While the 2009 codes required that 50% of lighting fixtures in a new home to be so-called "high-efficacy" fixtures (fixtures using a CFLs or equivalent), the percentage has been raised to 75% in the new code.
Duct tightness requirements have become more stringent.
Blower-door testing requirements have become mandatory and more stringent; the 2009 threshold of 7 ach50 has been changed to 5 ach50 for climate zones 1 and 2, and 3 ach50 for homes in all other zones.
All homes in zones 3 through 8, and some homes in zones 1 and 2, will be required to have a whole-house mechanical ventilation system.
In many climate zones, window glazing U-factor and solar heat gain coefficient (SHGC) requirements have been changed.
Wall insulation requirements have become more stringent in climate zones 3, 4, 6, 7, and 8; for the first time, builders in climate zones 6, 7, and 8 will be required to install exterior rigid foam insulation (or to use some other comparable wall insulation strategy).
The bottom line: every new home will need to be tested with a blower door, every cold-climate builder will need to come up with a strategy to stop thermal bridging through studs.
Chapter 11 in the IRC
The 2012 IRC still includes energy efficiency requirements in Chapter…
Weekly Newsletter
Get building science and energy efficiency advice, plus special offers, in your inbox.
This article is only available to GBA Prime Members
Sign up for a free trial and get instant access to this article as well as GBA's complete library of premium articles and construction details.
Start Free Trial
Already a member? Log in