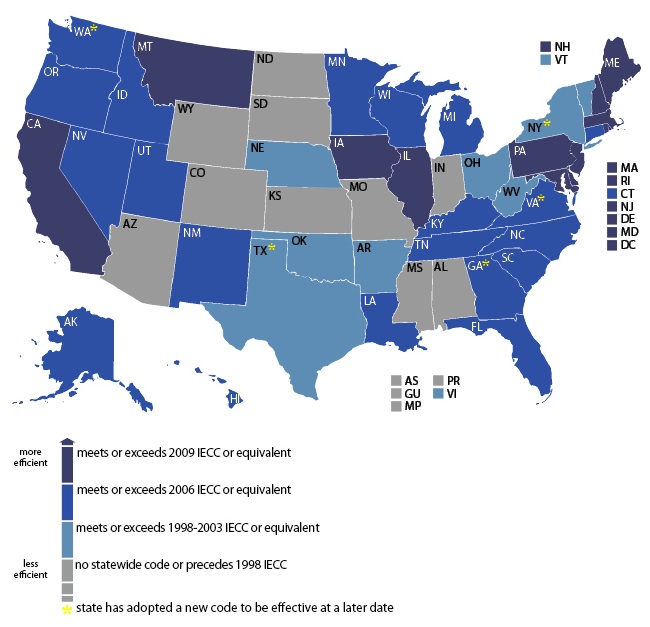 As difficult as it can be to counter misperceptions about the costs and benefits of building to higher energy efficiency standards, it never hurts to try, particularly if factual information is handy. The Building Codes Assistance Project (BCAP), the initiative aimed at helping states and municipalities develop and implement building energy code, released some data this week that might help.
A BCAP study of costs tied to compliance with the 2009 International Energy Conservation Code – which yields about 15% in energy efficiency gains compared to the 2006 edition (and which BCAP describes as a "minimum but meaningful baseline for energy efficiency") – found that the average cost increase comes to $818.72, based on a national-average home price of $267,451 for a single-family residence of 2,400 sq. ft.
A 20% down payment on such a house would increase by $154.78 and, assuming a 30-year mortgage at 4.14%, monthly payments would increase by $3.01, the study found. Annual energy savings, however, would average $243.37 – enough to cover, in less than three and a half years, the upfront cost of conforming to the code.
Going beyond code
BCAP, in part through its Online Code Environment & Advocacy Network, offers a large assortment of web-based forums for professionals looking to explore code-related issues, from the technical to the political, and to track progress on code adoption in each state.
For 2010, BCAP has been tracking 10 places – some are states, some are municipalities – as they develop, test, and/or adopt energy efficiency code and related compliance strategies. Each location becomes, in effect, a case study for code development and adoption.
One example: Kansas, lately best known among green building advocates for Greensburg, the tornado-strafed town that has taken extraordinary steps to rebuild with energy efficiency as a top priority. But the state also has implemented programs that involve homeowners individually, including a requirement that each home seller complete a Kansas Energy Efficiency Disclosure form, which lists the insulation levels of the shell, the U values of the windows, and specifications for water heaters and HVAC equipment.
Another initiative, Efficiency Kansas, is a low-interest loan program, established through federal stimulus funding, that allows homeowners to borrow up to $20,000 from a participating lender or utility for pre-approved energy efficiency upgrades. Financing approval for each project is contingent on whether the estimated savings on energy costs will cover the cost of the loan.
Programs such as Efficiency Kansas could mesh fairly easily with a proposed federal program now being field tested: the Department of Energy's Home Energy Score (HES) program, which is intended to provide consumers with straightforward information about their home energy efficiency, including a score from 1 to 10, with 10 indicating net-zero-energy performance; potential savings on energy costs after an upgrade; and a customized list of upgrade recommendations.
Weekly Newsletter
Get building science and energy efficiency advice, plus special offers, in your inbox.