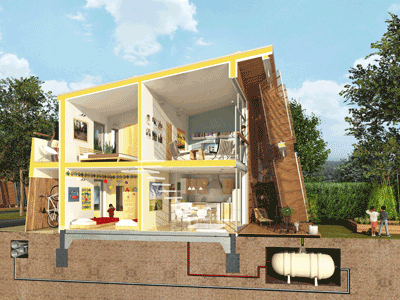 Hanham Hall, a 195-unit redevelopment project planned for Bristol, England, is well on its way to becoming the U.K.'s first large-scale residential development built to the highest standards set by the Code for Sustainable Homes, Britain's environmental-impact rating system for homes.
The project, which received final planning approval last month, will be built to Level 6 of the code, which measures nine categories of sustainable design, building performance, and construction practices, including energy and water usage, CO2 emissions, overall community health, materials used in construction and the environmental impact of sourcing them, and reduction of construction waste and pollution.
"There is no doubt that there will need to be significant changes in the way that homes are constructed to meet higher environmental standards," Mark Clare, chief executive of Barratt Developments, the developer chosen for the project, said in a statement. "This project places us at the forefront of this important agenda."
Barratt worked with London-based HTA Architects and a number of other design consultants to put together a winning bid. At least a third of the homes will be offered for rent at affordable rates, and the rest will be sold. The community's structural centerpiece, Hanham Hall, is a former hospital that will be converted to a community center. Construction is due to start by the end of this year, with completion of the first homes in 2010.
Accelerating toward zero
Hanham Hall's mandate to meet Level 6 code is the product of an initiative called the Carbon Challenge, a program launched recently by the U.K.'s national redevelopment authority, the Homes and Communities Agency, to test the ability of big residential projects to measure up to Level 6 standards.
The Carbon Challenge also meshes with Britain's Climate Change Act, which became law in November 2008 and sets legally binding targets for greenhouse gas emissions in the U.K.: a reduction in CO2 emissions of at least 26% by 2020 (against a 1990 baseline) and a reduction by 80% of all greenhouse gas emissions by 2050.
As the HCA puts it, the Carbon Challenge is part of the agency's effort to "fast-track" a number of developments that will significantly reduce housing's impact on the environment, provide important lessons for future developments, and encourage people to live more sustainable lifestyles.
Weekly Newsletter
Get building science and energy efficiency advice, plus special offers, in your inbox.