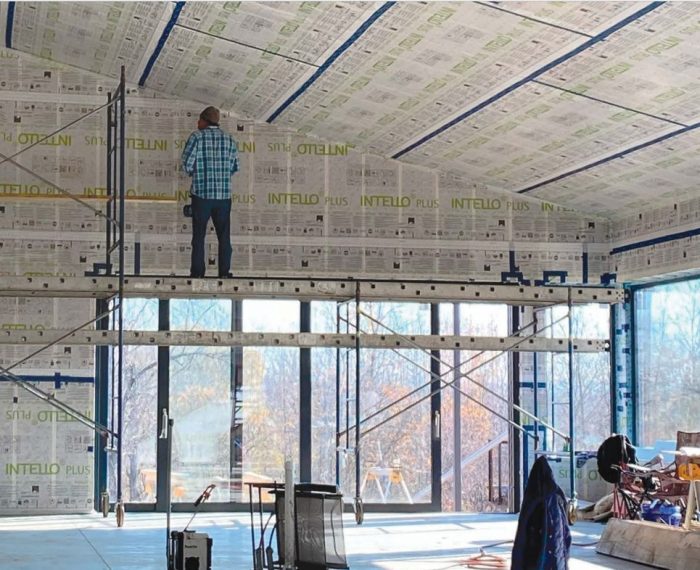 Building code requirements for interior vapor barriers (or vapor retarders) have a sad and shameful history. First introduced in the U.S. in 1948, these code requirements were never based on science—they were based on erroneous theories promoted by manufacturers who were worried about liability issues associated with moisture accumulation in walls. (For more information on the history of these requirements, see "Do I Need a Vapor Retarder?")
Once these code requirements were established, training manuals for builders regularly reinforced erroneous lessons on vapor diffusion. Scientists now know that most moisture problems in walls originate from rain or air leakage. (During the winter, exfiltrating indoor air carries moisture that can accumulate in or on cold materials, especially in cold climates.) Very few moisture problems in buildings have anything to do with vapor diffusion.
Since 1948, building practices have changed
Although building code requirements for vapor barriers were totally unjustified when they were first established in 1948, there have been three technical developments since then that have changed the way interior vapor retarders affect wall performance.
The first two of these technical developments were the widespread adoption of residential air conditioning and the use of polyethylene as a vapor barrier material. These two technical developments increased the likelihood that interior vapor barriers in warm, humid climates could contribute to moisture problems in walls.
The third technical development was the invention and widespread use of OSB sheathing. Since OSB sheathing replaced sheathing materials that were more vapor-permeable than OSB—materials like boards and plywood—the widespread use of OSB sheathing created, for the first time, a possible justification for the use of interior vapor retarders.
These days, diffusion-related moisture problems in walls are possible—especially in buildings sheathed with OSB. OSB-sheathed walls can't dry to the exterior as fast as walls sheathed with boards or…
Weekly Newsletter
Get building science and energy efficiency advice, plus special offers, in your inbox.
This article is only available to GBA Prime Members
Sign up for a free trial and get instant access to this article as well as GBA's complete library of premium articles and construction details.
Start Free Trial
Already a member? Log in