Two kinds of office chairs, a clothes dryer, bicycle storage equipment, and high-performance panelized homes all found a place on BuildingGreen's Top Ten product list for 2016.
The publisher of Environmental Building News and GreenSpec annually recognizes products that it believes "transform the design and construction industry" by reducing greenhouse gas emissions and saving energy and water. This is the 14th year that BuildingGreen has made the awards.
Here's this year's list:
High-performance panelized homes
Unity Homes are an alternative to conventional site-built houses, designed to be less wasteful, better insulated and better air-sealed. The Walpole, New Hapshire, company builds panelized wall systems and small, prefabricated modules for bathrooms, mechanical rooms and kitchens, which it calls "pods," that can be assembled rapidly on site.
Walls are insulated with cellulose to R-35, and roofs insulated to between R-38 and R-44. The houses come with triple-pane windows, custom insulated doors, minisplit heat pumps, heat-recovery or energy-recovery ventilation ventilation systems, and heat pump water heaters. They can achieve net-zero energy performance with the addition of renewable energy systems, according to BuildingGreen.
Unity Homes are made with wood certified by the Forest Stewardship Council, and come with low-VOC finishes and adhesives. Components are milled with the help of computer-controlled equipment in a shop environment that minimizes waste and operating energy. Despite the upgrades in materials and workmanship over standard site-built houses, Unity Homes were said to be less expensive.
Friendlier spray foam insulation
Honeywell's Solstice liquid blowing agent is a replacement for hydrofluorocarbons with a high global warming potential. The hydrofluoroolefin (HFO) technology has a 100-year global warming potential of 1, the same as carbon dioxide and many times lower than HFC industry standards.
The switch to a blowing agent with a low global warming potential would erase one of the key disadvantages of spray polyurethane foam insulation, which otherwise offers high insulating value and air-sealing characteristics.
BuildingGreen said that Solstice has been on the market for several years, and is now showing up in some U.S. products, including Whirlpool appliances and Lapolla's Foam-Lok 2000 4G SPF wall insulation and roof insulation manufactured by Herny-West Development Group. Solstice also has broad potential for extruded polystyrene rigid insulation now made with an HFC blowing agent.
In addition to a lower environmental impact, Solstice also has a higher yield, better compressive strength, and better thermal performance than HFC-blown products, BuildingGreen said.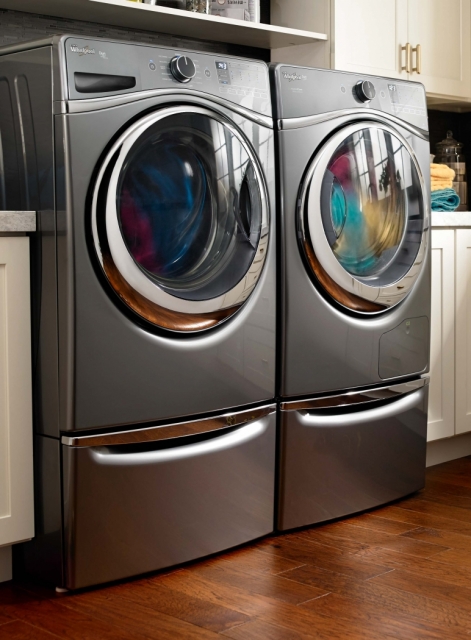 Ventless clothes dryer
The HybridCare clothes dryer from Whirlpool uses heat-pump technology for improved energy performance over conventional dryers, BuildingGreen said, with a built-in refrigeration loop that condenses moisture from the drying drum and returns excess heat energy to the dryer.
HybridCare does not require a vent, giving it better efficiency than a conventional dryer while eliminating the risk of fire from lint that accumulates in the exhaust ducts of conventional dryers. It's also gentle on clothes, and easier to install than a conventional machine. Condensate is drained away with the same drain line as the washer.
The 7.3 cubic-foot HybridCare has a 1,300-watt booster heater than can be operated in one of three modes for drying times as low as 50-60 minutes. In "Eco" mode, the dryer uses 40% less energy than a conventional dryer, according to the manufacturer.
U.S. consumers now spend $9 billion a year for electricity to operate conventional clothes dryers. They account for some 6% of residential energy consumption, more than a refrigerator or clothes washer. The Whirlpool design also won the EPA's Emerging Technology Award as well as an Innovation Award at the Consumer Electronics Show earlier this year.
Sloan Hybrid Urinal
Sloan's Hybrid Urinal is designed to overcome two drawbacks of other waterless urinals — a reputation for odor and maintenance problems — which have limited their adoption, BuildingGreen said. The urinal uses a water-free cartridge and has an automatic rinsing process that prevents mineral buildup.
Minerals accumulating in standard waterless urinals clog cartridges and plumbing and must be cleaned regularly. The "Velocity" cartridge in the Sloan urinal lowers the risk of mineral buildup by speeding up the passage of liquid through the device. It also uses 20% less plastic and doesn't have voids where bacteria and odor can form. The cartridge should last for 7,000 uses.
The Sloan Hybrid also has a feature called "Jetrinse Solution Technology" that uses a one-gallon rinse of water every 72 hours to prevent the formation of solids in the housing and drain line, BuildingGreen said. The Hybrid comes in three models and is about same price as a mid-tier electronic "flushometer" model, the manufacturer says.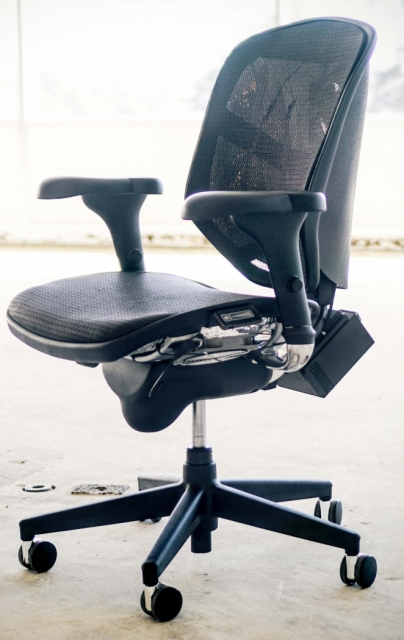 Two office chairs
There were two chairs on this year's list: Gunlocke's Savor guest chair and the Hyperchair from Personal Comfort Systems.
The Hyperchair is designed to save energy by keeping office employees comfortable without constant cycling of the building's heating and ventilating system. The chair can heat or cool its occupant with a built-in heating element as well as a fan. The heater draws 16 watts of electricity, the fan 4.8 watts. They are powered by a lithium ion phosphate battery and controlled by an arm-mounted panel. The battery charges at night when electricity costs often are lower.
According to BuildingGreen, by expanding the temperature range in which the HVAC system doesn't have to run, the Hyperchair can produce between 7% and 15% in energy savings for every degree centigrade above or below the normal HVAC setting.
What distinguishes Gunlocke's Savor guest chair is its use of an engineered wood made from mushroom mycelium (similar to roots) rather than plywood or particleboard. Unlike those products, Evocative's "MycoBoard" is grown with mycelium and agricultural waste and contains no other adhesives or binders. The board is dried and molded under heat and pressure, which kills the mycelium and makes the material strong and stable.
MycoBoard is Cradle-to-Cradle Gold-certified and Living Building Challenge Red List-free, according to Building Green. It won't split, is naturally flame resistant, can be produced with very little production waste and no emission hazards, BuildingGreen said, and it can be composted at the end of its service life.
Gunlocks is the first commercial furniture company to use Ecovative's mycelium-based products.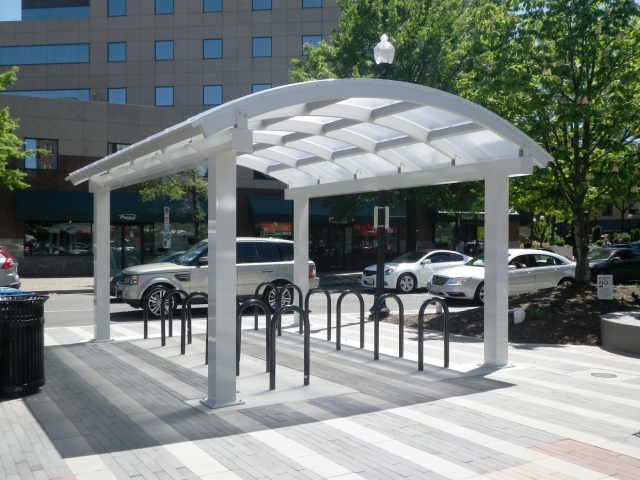 Safe bike storage
High-quality, convenient bicycle storage racks encourage employees to skip motorized transport and use their bikes to commute, BuildingGreen says, explaining why the LEED rating system awards bike racks points toward certification.
Duo-Gard offers a variety of bike storage options, including standard bike racks as well as partially and fully enclosed models. The company also makes custom storage units. Roofs and walls can be made from a number of different materials, including safety glass, metal mesh, and polycarbonate. Photovoltaic panels and LED lighting can be incorporated into some models.
Low-voltage LED lighting
Unlike conventional LED lighting in commercial buildings, NuLEDs Power-over-Ethernet (PoE) lighting system uses low-voltage Cat 5 or Cat 6 ethernet cables to carry both power and data to lighting fixtures. Because AC line current does not have to be converted to DC, as is normally the case, efficiency and connectivity are better, and flicker and other performance problems eliminated.
According to BuildingGreen, DC power from a standard PoE network is connected to a SPICEbox control module, which becomes the host for LED lights, controls, wall switches and sensors. The plug-and-play system for up to 60 watts of lighting and data is safe, simple, and inexpensive to install and can be modified without the help of an electrician.
NuLEDs monitors power consumption, color temperature, and dimming, and can be directly connected to renewable DC power supplies.
Heat pump water heater
BuildingGreen says that the Sanden heat-pump water heater solves two problems that standard heat pumps have — refrigerants with a high global warming potential, and an inability to make water that's hot enough for hydronic heating systems. (For a GBA report on the Sanden water heater, see Split-System Heat-Pump Water Heaters.)
The Sanden uses carbon dioxide, with a global warming potential of 1, as the refrigerant, and it can produce water at 149°F with an outdoor temperature of -15°F. That's good enough for hydronic heat in an energy-efficient home.
The Sanden C02 heat pump has been available in Japan for several years and will hit U.S. markets next year. The split-system design, which locates the compressor outside, doesn't lower air temperatures in the mechanical room or garage where it's located, a characteristic of other heat pump water heaters.
The system's outdoor unit can be paired with storage tanks of different sizes, including an 80-gallon stainless steel tank. The 4.5-kilowatt model delivers 16,000 Btu per hour; an 11-kW version better suited for space heating is in the works, BuildingGreen said.
CO2 refrigerants operate at higher pressures that HFC refrigerants, BuildingGreen added, so the piping and connections for the Sanden water heater must be more robust than those used on conventional equipment.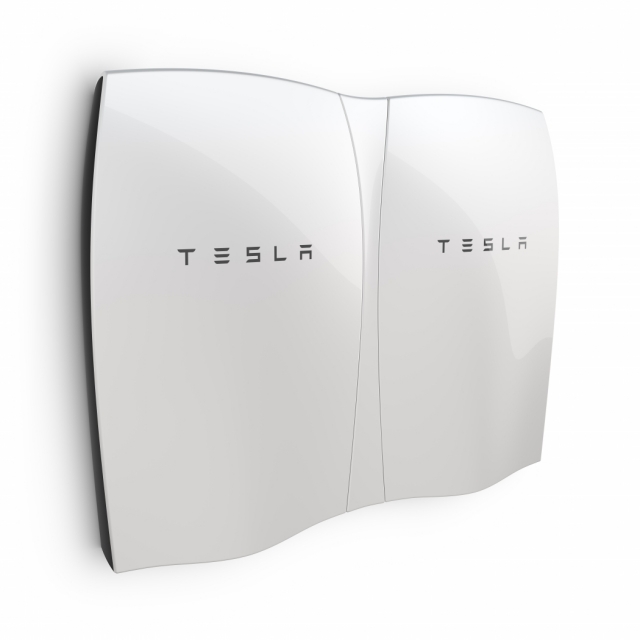 Tesla Powerwall
The lithium-ion Powerwall and Powerpack batteries from Tesla can store electricity generated by grid-tied renewable energy systems for use as a backup source of power or to even out demands for grid power.
Tesla announced the Powerwall earlier this year, saying that the battery had several potential uses, including the storage of electricity purchased when rates are low for consumption when rates for grid power are high, which is called "load shifting." The battery can also can be used as a source of electricity when the grid is down.
Powerwall, the residential version of the battery, comes in two sizes, 10 kWh and 7 kWh, and can be combined for total storage of up to 90 kWh. Powerpack is the commercial-utility-industrial model and can be used in systems ranging from 100 kWh to 100 MWhs.
The batteries can be controlled remotely, allowing utilities to manage loads on the grid at times of peak demand.
Weekly Newsletter
Get building science and energy efficiency advice, plus special offers, in your inbox.