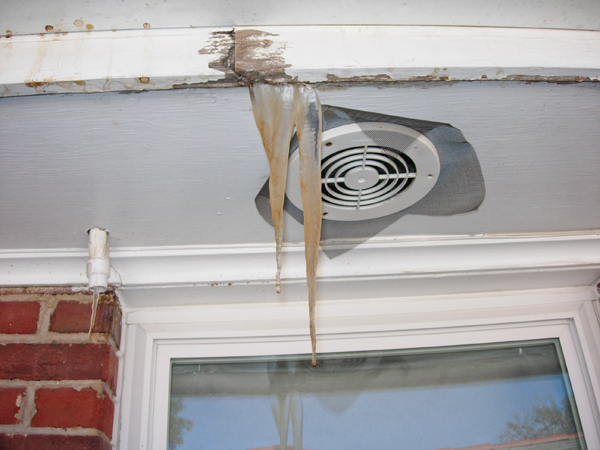 Ice dams are a familiar problem in New England and other parts of the country where winters are long and cold. Snow on under-insulated and under-ventilated roofs melts, pools and refreezes to form a dam. Water backs up under the shingles and much to the horror of homeowners often finds its way inside the building.
Spray foam polyurethane insulation is supposed to be a hedge against that problem. By forming an effective seal around rafters, and offering respectable R-values, foam should be blocking the migration of cold air into the roof where it can condense into water.
But a post by a New Orleans resident in our Q&A section showed just the opposite seemed to be happening.
Nick had hired a contractor to install open-cell foam on the bottom of his roof deck, converting the attic from a vented to an unvented space. When temperatures dropped below freezing, Nick noticed icicles forming at the soffit near an old, and by then unused, vent for a bathroom fan.
The roof itself was virtually new, and neither the insulation contractor nor the roofer could explain what was going on.
"This leads me to believe that it has to do with the cold weather on the asphalt roof and somehow the warm air in the attic is going through the insulation in that area to cause the problem," Nick writes. "The question is what can I do to stop the condensation?"
Open-cell foam is not a vapor barrier
Closed-cell foam, with higher densities and a higher R-value, can be an effective vapor retarder.
But not open-cell foam, It has a perm rating as high as 35 per inch, according to a technical bulletin from Fomo Products Inc.
And this, Robert Riversong points out, could be the source of the problem:
"The open-cell…
Weekly Newsletter
Get building science and energy efficiency advice, plus special offers, in your inbox.
This article is only available to GBA Prime Members
Sign up for a free trial and get instant access to this article as well as GBA's complete library of premium articles and construction details.
Start Free Trial
Already a member? Log in