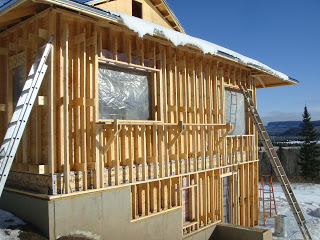 Michael Roland is designing a new house and trying to choose the right wall assembly. It's down to a choice between a double-stud wall filled with fluffy insulation, or a single wall wrapped in a layer of rigid foam insulation.
"Using exterior rigid foam solves thermal bridging and prevents condensation within the batts in the wall cavity," he writes in a Q&A post at Green Building Advisor. "Double-wall construction also solves thermal bridging, but what about the dew point within the batts? Won't there be a condensation problem?"
That's the topic for this Q&A Spotlight.
Moisture won't condense in batts
Don't worry about condensation on batts, writes Dana Dorsett, because it simply won't occur.
"Condensation doesn't happen in batts," he says. "Because batts are extremely vapor-permeable, and low-mid density batts are so air-permeable, whenever the coldest surface of the cavity reaches the dew point of the entrained air in the cavity the moisture condenses on that surface, not in the fiber itself."
While the condensing surface is picking up moisture, Dorsett adds, "at any other point within the batts the fiber temperature is above that temperature, and no condensation occurs."
"If [the condensing surface] is a hygroscopic material such as OSB sheathing, [the moisture] doesn't condense either, but instead adsorbs into the material, never achieving a true liquid state (unless there is so much moisture entering the cavity from air leaks that the OSB saturates)," he writes.
The real risk is that sheathing made from oriented strand board will rot. This problem is known as the "cold OSB" problem, according the GBA senior editor Martin Holladay. When OSB gets wet…
Weekly Newsletter
Get building science and energy efficiency advice, plus special offers, in your inbox.
This article is only available to GBA Prime Members
Sign up for a free trial and get instant access to this article as well as GBA's complete library of premium articles and construction details.
Start Free Trial
Already a member? Log in