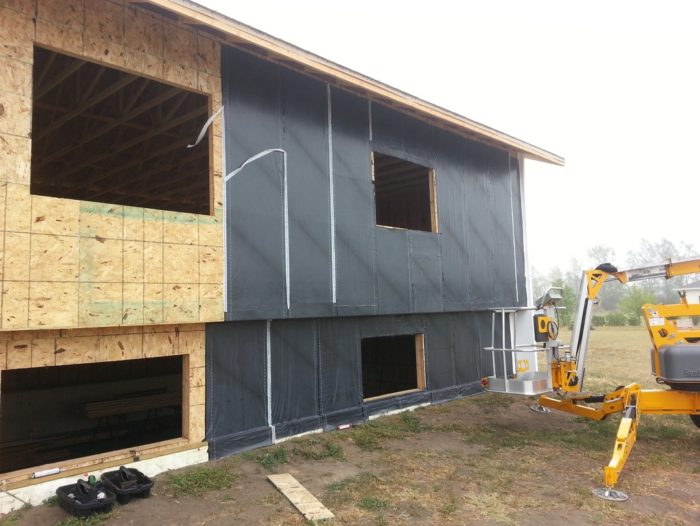 Yes, James Timmerberg's new house will have a water-resistive barrier (WRB) on the exterior walls. The question is which of two possible options will be best choice: Grace Ice & Water Shield, a self-adhering membrane typically used to waterproof roof decking, or Tyvek Drainwrap, a housewrap designed for areas prone to wind-driven rain.
In a Q&A post at Green Building Advisor, Timmerberg asks, "If applying a WRB under rigid foam insulation, what are the pros and cons of using Grace Ice & Water Shield compared to Tyvek Drainwrap, in terms of protecting the sheathing, serving as an air barrier, difficulty of installation, flashing details, and any other reason you might prefer one product over the other to serve as a WRB?"
Timmerberg assumes that the Ice & Water Shield will be more expensive. Is it worth the extra investment, he asks, for a 2,000-square-foot-house that will be built in Climate Zone 5? That's the topic for this Q&A Spotlight.
These products are apples and oranges
Ice & Water Shield, as David Meiland points out, is considered a roofing product, not something that's typically applied to exterior walls.
"These products aren't in the same category," he says. "If there are particular areas of your project that might benefit from a self-adhering membrane, then I would look at Vycor, but it should only be on small areas of the wall the are still vulnerable with correctly overlapped layers of more usual materials."
Ice & Water Shield is expensive, he adds, and a "major ordeal" to apply on the entire exterior wall surface of a two-story house.
Timmerberg understands that a membrane such as Grace Ice &Water Shield is used in two construction techniques, called PERSIST and REMOTE, but Meiland points out that those building approaches…
Weekly Newsletter
Get building science and energy efficiency advice, plus special offers, in your inbox.
This article is only available to GBA Prime Members
Sign up for a free trial and get instant access to this article as well as GBA's complete library of premium articles and construction details.
Start Free Trial
Already a member? Log in