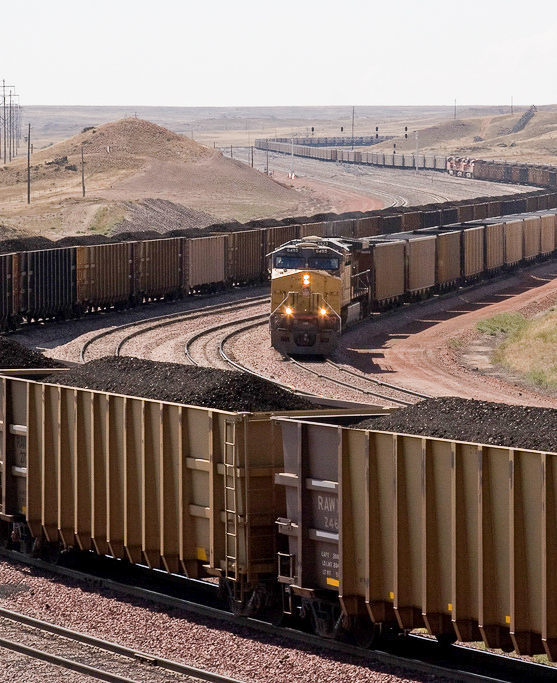 Bankruptcies, a move toward cheap natural gas, and increased pressure from renewable energy all are eating into the production of coal, bringing it to a level not seen in the last 35 years.
Coal consumption peaked in 2007, and since then has declined by nearly one-third, The New York Times reported. Total U.S. production in the period from January through March was 173 million short tons, the lowest of any quarter since 1981, and a 17% drop from the previous quarter. That's the sharpest quarter-to-quarter drop in almost 32 years.
The newspaper cited a report from U.S. Energy Information Administration, released last week, which said that the Powder River Basin in Montana and Wyoming showed the greatest drop since the previous quarter.
Above-average temperatures last winter, which decreased the demand for electricity, and big inventories of unused coal among electric power plants resulted in lower rail shipments in the first three months of the year.
But the EIA report also points to several underlying reasons for a continued drop in coal mining and coal consumption.
"Coal production has declined because of increasingly challenging market conditions for coal producers," the EIA said. "Electricity generation accounts for more than 90% of domestic coal use. In addition to complying with environmental regulations and adapting to slower growth in electricity demand, coal-fired generators also are competing with renewables and with natural gas-fired electricity generation during a time of historically low natural gas prices."
In early 2008, The Times notes, coal accounted for roughly half of the electricity generated in the U.S. That's now fallen to about 30%. At the same time, photovoltaics are on the rise: In the first quarter of the year, the Solar Energy Industries Association reports, 1,665 megawatts of solar capacity were installed in the U.S., more than coal, natural gas, and nuclear combined.
Coal companies hope the situation will change
A number of coal producers are taking cover behind bankruptcy laws as their profits sink, including Peabody Energy, the world's biggest private-sector producer.
But coal producers are holding out hope for an economic reversal of fortunes. For example, a spokesman for Cloud Peak Energy, a major producer in the Powder River Basin, said that the winter's warm temperatures were a fluke and that demand would once again pick up for coal.
"Eventually, things are going to turn around," Rick Curtsinger told the newspaper. "The U.S. and the world will continue to use significant amounts of coal going forward."
Jim Thompson, an analyst, said that the industry was "rapidly shrinking," but added that coal would continue to be an important industry and there "will continue to be success stories."
Coal executives recognize that they will command much less of the market than they did a decade ago, but they still see opportunities for well-positioned producers to make money. "I see a future, but it's going to be a greatly reduced industry and you have to be very competitive in that industry or you won't survive," Murray Energy CEO Robert Murray told one newspaper in mid-May.
Weekly Newsletter
Get building science and energy efficiency advice, plus special offers, in your inbox.