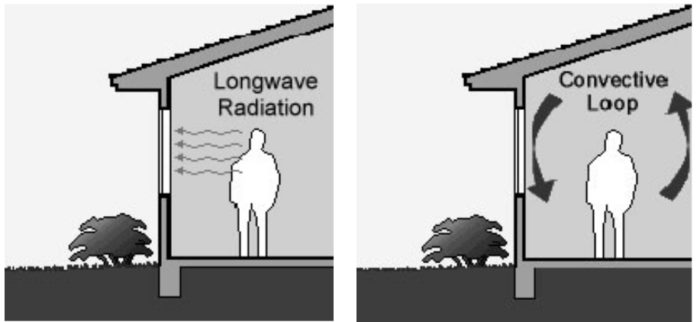 Our homes include insulation to reduce heat flow through floors, walls, and ceilings. Some parts of our homes' thermal envelopes (for example, insulated ceilings) are well insulated and have a high R-value; other parts (like windows) have a much lower R-value. But during the winter, as long as we have an adequate heating system that keeps the indoor air temperature at 72°F, we should be comfortable — right?
Not quite. Even when the air temperature is held to a steady 72°F, occupants can be cold during the winter — especially if they are standing or sitting next to a large window.
Why windows give us a chill
Someone who sits next to a window on a cold night might say, "I feel a chill. I think this window is drafty."
That person might be right. If the window has bad weatherstripping, outdoor air might be leaking around the sash, creating a cold draft.
There's another possibility, however: the cold window pane is probably cooling the interior air near the window glass. As that air gets colder, it also gets denser, so it falls to the floor. The falling cold air pulls warmer air near the ceiling toward the glass — air which is cooled in turn. A convective loop is set up, and people sitting nearby might accurately note that they feel a slight breeze — even if the window isn't letting any outdoor air leak in.
There's a third way that windows can give us a chill, and it has to do with radiative heat transfer. The surfaces in a room emit longwave radiation: that is to say, they radiate heat. People also emit longwave radiation. If I am sitting near a hot wood stove, the stove is emitting more radiation in my direction than I'm emitting to the wood stove.…
Weekly Newsletter
Get building science and energy efficiency advice, plus special offers, in your inbox.
This article is only available to GBA Prime Members
Sign up for a free trial and get instant access to this article as well as GBA's complete library of premium articles and construction details.
Start Free Trial
Already a member? Log in