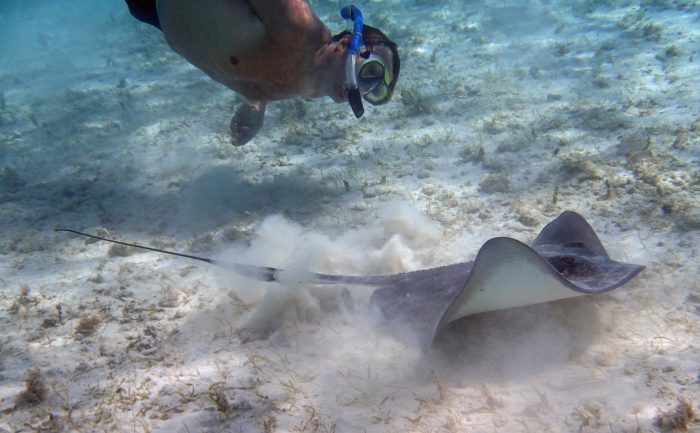 When vacationing in warm locations, I've had several opportunities to go snorkeling. Over the years, I've used a number of different swim masks, and like anyone who spends time snorkeling, I sometimes have to deal with irksome condensation issues.
The interior side of the glass on a swim mask eventually fogs up. To delay the development of condensation, snorkelers usually apply a surfactant to the interior side of the glass before putting the mask on; examples of surfactants include saliva, baby shampoo, or commercial products intended to delay the onset of condensation. (For more information on how these surfacants work, see "How Does Spit Work in Defogging a Scuba Mask?")
Even when a snorkeler conscientiously installs a surfactant, however, the surfactant can't remain effective forever. Eventually moisture inside the mask (either condensation or ocean water that leaks in the perimeter of the mask) washes away the surfactant, and the laws of physics take over. Assuming that the ocean is cool enough to lower the glass temperature below the dew point of the air inside the mask, condensation will form on the inside of the glass.
The glass is cooler than the dewpoint of the air

Let's review how this type of condensation forms. When a snorkeler is swimming, the temperature of the glass in the mask drops due to contact with the ocean. To pick a number, let's say that that the ocean temperature is 78°F. As the swimmer moves through the water, the swimmer perspires. The perspiration evaporates from the swimmer's face into the air contained by the mask, so the relative humidity of that air increases until some maximum level — the equilibrium level — is reached. Presumably, that level is 100% relative humidity.
If the glass temperature has dropped to the dew point of…
Weekly Newsletter
Get building science and energy efficiency advice, plus special offers, in your inbox.
This article is only available to GBA Prime Members
Sign up for a free trial and get instant access to this article as well as GBA's complete library of premium articles and construction details.
Start Free Trial
Already a member? Log in