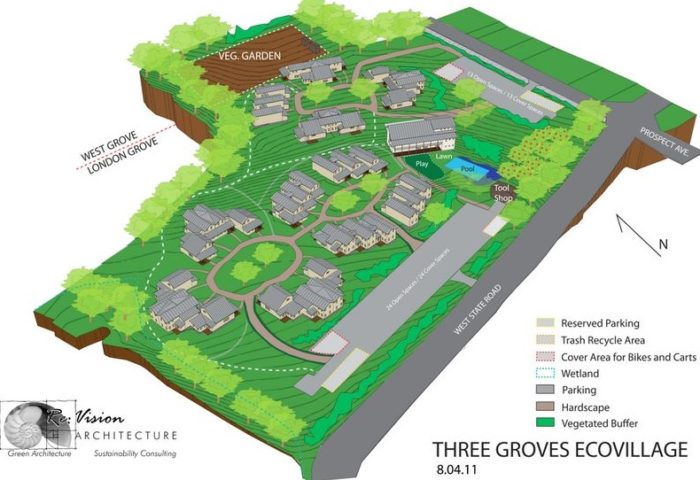 Planned for a site about 30 miles west of Philadelphia, Three Groves Ecovillage will add to the uptick in cohousing communities that have embraced energy efficiency and other green building goals.
As currently designed, Three Groves will include solar thermal and photovoltaic systems with enough capacity to allow the community to operate at net zero energy. Its site management, construction, and materials strategies, meanwhile, are aimed at earning the project LEED for Homes Platinum certification.
Cohousing has so far found its way to 38 states, according to the Cohousing Association of the United States, whose directory lists almost 250 cohousing projects in the U.S. Eight of those projects are in Pennsylvania. And though not all ecovillages adopt the characteristics of cohousing communities (such as a resident-directed site plan that clusters residences around a common house), many cohousing communities have embraced ecovillage concepts of environmental stewardship, which typically include energy-efficient housing and renewable-energy systems.
Ecovillage and cohousing compatibility
Abundance EcoVillage, a community of 14 homes on 15 acres in Fairfield, Iowa, for example, is not a cohousing development, although the homeowners there do share the cost of maintaining the community's renewable-energy systems – two wind turbines (one with a capacity of 3 kW, the other with a 5 kW potential output), and a 7-kW photovoltaic array.
Meanwhile, EcoVillage at Ithaca, in upstate New York, is a true cohousing community of 60 units whose planned third neighborhood, a 40-unit project, is expected to include about 25 homes built to the Passivhaus standard.
Three Groves Ecovillage homes, nine of which have been sold so far, will range in size from 1,193 square feet for a one-bedroom home to 1,965 square feet for a four-bedroom home, with prices ranging from about $200,000 to the low $400,000s. Monthly housing costs – including mortgage, taxes, and energy costs – are expected to average $1,752.
We've asked Three Groves for details about the insulation and expected airtightness of the units and will include that information when it becomes available.
Weekly Newsletter
Get building science and energy efficiency advice, plus special offers, in your inbox.