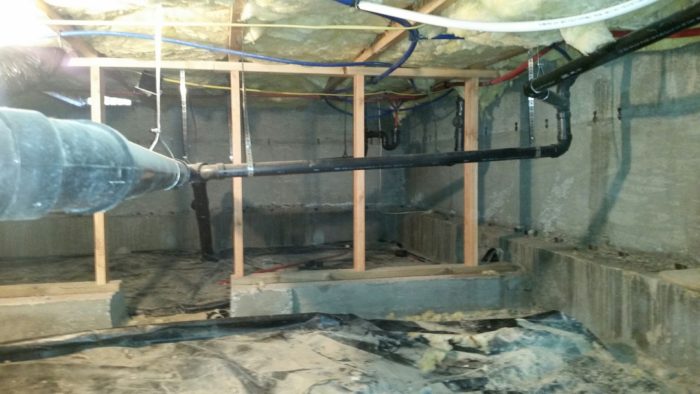 Michael Geoghegan is designing a house for a mixed, humid climate and he plans on using an insulated crawl space.
Advanced Energy, a regional energy consulting firm, has published a report on crawl spaces which suggests a dehumidifier can be used as an alternative to providing code-required supply air to condition a crawl space. "I'm a little bit concerned about cold floors in the winter time with this method," Geoghegan writes in a Q&A post at GreenBuildingAdvisor. "Does anyone have any experience here?"
Detailing crawl spaces correctly isn't simple. A recent Q&A Spotlight focused on methods for insulating a crawl space, and Geoghegan's question — "What's the best way of ventilating a sealed crawl space?" — raises overlapping concerns.
In this Q&A Spotlight, the discussion quickly turns to a broader issue: Are crawl spaces a good idea in the first place? Although they are common in the southeastern part of the U.S., they are rarely used in the Northeast, where full basements are the norm and crawl spaces are an anomaly. Who's right?
Crawl spaces need an exchange of air
A dehumidifier might be useful for lowering humidity levels in a crawl space temporarily, says GBA senior editor Martin Holladay, but there should be no need to for a dehumidifier to become a permanent crawl space fixture. Because dehumidifiers use a lot of energy, it would be better to remove the dehumidifier once the crawl space has dried out.
Long-range, the question becomes how best to comply with a building code requirement that a sealed crawl space be conditioned. There are two code-approved approaches, Holladay says. Both approaches require the installation of a floor grille to connect the crawl space air with the conditioned home above the crawl…
Weekly Newsletter
Get building science and energy efficiency advice, plus special offers, in your inbox.
This article is only available to GBA Prime Members
Sign up for a free trial and get instant access to this article as well as GBA's complete library of premium articles and construction details.
Start Free Trial
Already a member? Log in