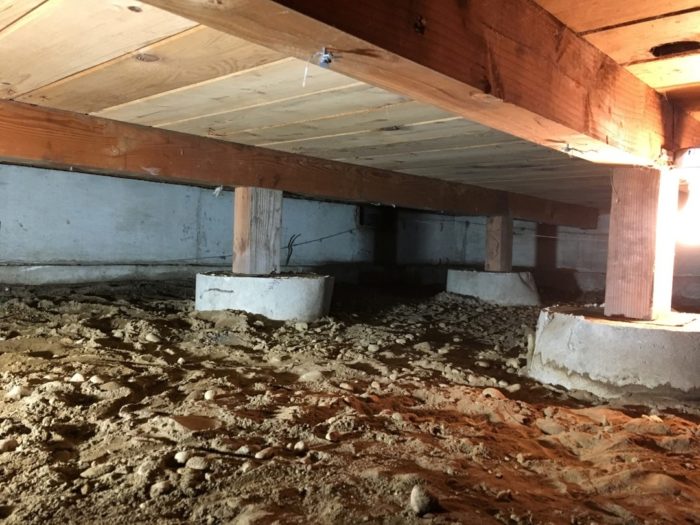 David Meyer's Seattle-area home is built over a crawl space, and after stripping out the old insulation and vapor barrier he is ready to re-insulate and seal the area. After looking into his options, Meyer is leaning toward "encapsulation," meaning the crawl space would be sealed (unvented), with the insulation on the walls, not between the floor joists.
He'll have 18 inches of clearance to work with. The floor framing consists of what he calls the "old style post and pier construction method" with 4×6 joists on 48-inch centers, followed by 2×6 tongue-and-groove subflooring, and hardwood finish flooring on top of that.
"After cleaning up the crawl space I started doing research into how to insulate the area, and found the encapsulation method," Meyer writes in a Q&A post at GreenBuildingAdvisor. "I like the method due to not having to run insulation in the floor joists, giving me more space to work down there, and also in keeping the area cleaner for rodent inspection purposes and for when I do plumbing or other type of work."
There are, however, a few details yet to be worked out.
The house is currently heated with electric baseboard heaters, but Meyer is considering a switch to a gas-fired forced-air system. If he locates the furnace in the crawl space, it would heat the space and the ductwork would not have to be insulated. Is that a better option than putting the furnace into the attic and running a duct to the crawl space? Or heating the crawl space by placing an exhaust fan in one of the crawl space vents and opening a floor register between it and the house? Would the exhaust fan be enough to mitigate radon hazards?
Meyer's questions are the starting point for this Q&A Spotlight.
Weekly Newsletter
Get building science and energy efficiency advice, plus special offers, in your inbox.
This article is only available to GBA Prime Members
Sign up for a free trial and get instant access to this article as well as GBA's complete library of premium articles and construction details.
Start Free Trial
Already a member? Log in