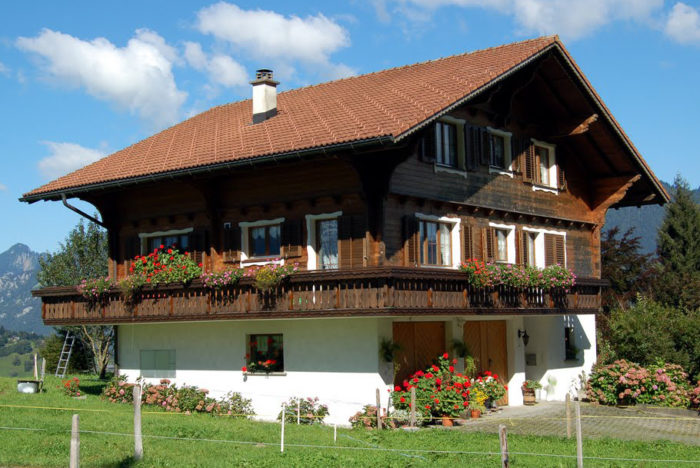 Many residential designers pay too little attention to roof overhangs. Roof overhangs have several important functions: they can protect exterior doors, windows, and siding from rain; they can shade windows when solar heat gain is undesirable; and they can help keep basements and crawl spaces dry. A house with improper overhangs can overheat in the summer, can suffer from water entry problems at windows and doors, and can have premature siding rot.
The most common design error is to make roof overhangs too stingy. It's also possible (although much rarer) for roof overhangs to be too wide.
A typical gable roof has two kinds of roof overhangs: eave overhangs and rake overhangs. Because it's easier to frame a wide eave overhang than a wide rake overhang, problems from stingy overhangs are more common at rakes than eaves.
Keeping water off of walls
Perhaps the most important function of wide roof overhangs is to help keep water off siding, windows, and doors.
While it's impossible to stop all wind-driven rain from reaching your walls, wide roof overhangs make a big difference — especially if there is just one story under the overhang.
Of course, an overhang that is trying to protect two or three stories is much less effective at keeping the wall dry. (Fortunately, there are solutions to this problem — notably the inclusion of a "brow roof" above the first floor. I will discuss brow roofs in more detail later in this article.)
[Photo credit: Lynnette Hartwig, gettingbestprice.com]Walls with stingy roof overhangs get regularly soaked. These repeated wetting episodes cause a variety of problems. Although these problems are worse in high-rainfall climates than low-rainfall climates, almost all North American homes are built in regions where it makes sense to protect walls from…
Weekly Newsletter
Get building science and energy efficiency advice, plus special offers, in your inbox.
This article is only available to GBA Prime Members
Sign up for a free trial and get instant access to this article as well as GBA's complete library of premium articles and construction details.
Start Free Trial
Already a member? Log in