---
It's important to integrate the window into the wall, rather than just covering the hole with glass
On foam-sheathed walls, there is no housewrap to cover the flanges. To protect the framing, use peel and stick, housewrap strips, or pieces of roofing underlayment.
---
MORE VIDEOS IN THIS SERIES
---
3. Sill Pan with Regular Peel-and-Stick
4. Sill Pan with Flexible Peel-and-Stick
5. Flashing Flanged Window Jambs
7. Head Flashing Windows/Doors
---
RELATED VIDEOS
---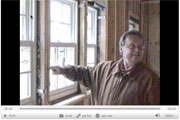 Air-Sealing Inspection of a Window
Video Transcript:
On this project, we're using rigid foam insulation, which is also serving as our secondary weather barrier, so we don't have housewrap going on the building. If we did have housewrap, we would typically fold the sides of the housewrap into the opening.
Protect the rough framing from possible leaks
On this job we have to protect the wood on each side of the opening, should any water leak in around the jamb of the window and drain down here and get into the sill pan.
There are a few choices for framing protection
For that we can use a couple of different products. We could use some pieces of housewrap, some tar paper from typical roof underlayment—or in this case, we're going to use some synthetic underlayment, used on roofs typically. These are just some scraps left over from jobs; we cut them into strips and we use them just to line the inside of the jamb opening. Now if any water leaks behind the flange of the window and gets to the membrane, it'll drain down and onto our self-draining sill pan.
---
Weekly Newsletter
Get building science and energy efficiency advice, plus special offers, in your inbox.