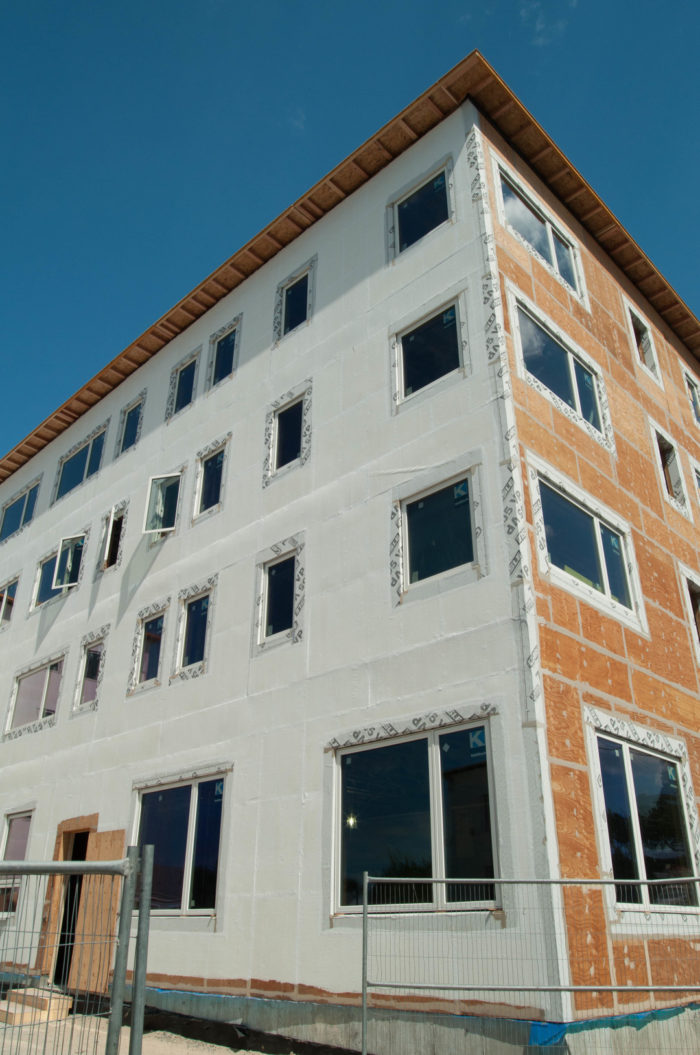 For some builders and architects, wood is the building material of the future, with lower costs and less embodied energy than concrete and steel and suitable even for structures many stories tall. But in Sandy Springs, Georgia, a city of about 100,000 north of Atlanta, wood has been deemed unsuitable for anything taller than three stories and larger than 100,000 square feet.
In a unanimous vote on August 16, the Sandy Springs City Council approved changes in the city's building code that will prohibit the use of structural wood in multifamily projects of that size and up, even as designers elsewhere around the world embrace an expanded use of wood, particularly cross-laminated timber, for multistory construction.
The change in Sandy Springs means "certain enumerated building elements (including the structural frame, load-bearing walls, etc.) are to be made of noncombustible materials."
In a memo explaining the proposal in advance of the vote, Assistant City Manger Jim Tolbert said, "In order to preserve the safety of persons inhabiting buildings above a certain height, many cities have instituted a requirement for construction with enhanced quality materials that increase the durability and longevity of the buildings."
Tolbert didn't name any of those cities and did not respond to a message asking for more information. Likewise, the city's director of communications and its community development director didn't respond to requests for comment.
The city posted a copy of the ordinance and Tolbert's memo at its website, but there are no minutes detailing the City Council's discussion.
Elsewhere, wood is gaining ground
The ordinance in Sandy Springs seems jarring given the widespread use of wood in multifamily buildings. Conventional stick-building is common — accounting for 87% of multifamily buildings in 2015, according to the website Construction Dive. A number of building designers are growing enthusiastic about the potential for cross-laminated timber (CLT), a kind of heavy duty structural plywood, for constructing multistory buildings.
A Portland, Oregon, architectural firm, for example, is planning an eight-story condo building called Carbon12 that would be built with CLT components. In Vancouver, Canada, an 18-story hybrid student residence combining concrete and timber is underway. The $51.5 million project should be finished next year. A 1,000-foot tall high-rise made from timber has been proposed in London.
A single company in the U.S. — D.R. Johnson in southern Oregon — currently makes CTL components, although they have a longer track record in Europe. Still, proponents point to a number of advantages timber buildings have over concrete and steel structures, including shorter construction schedules, lower cost, and fewer greenhouse gas emissions.
Architect Michael Green, who is working on a seven-story, all timber building in Minneapolis, said it has been difficult changing perceptions about wood, but that engineering large timber buildings "is truthfully the easy part."
"We're at the beginning of a revolution, I hope, in the way we build, because this is the first new way to build a skyscraper in probably 100 years or more," he told a TED audience a few years ago.
Last year, the U.S. Department of Agriculture awarded two $1.5 million grants in its Tall Wood Building Competition to promote the use of lumber and mass timber building products.
Wood advocates are perplexed
It isn't clear what prompted Sandy Springs to alter its building code. City officials haven't offered any evidence that wood buildings are any less durable or less safe than concrete and steel structures, and the American Wood Council says evidence does not bear that out.
Ken Bland, vice president of codes and regulations for the Council, says that Sandy Springs was given reports from the National Fire Protection Association showing that wood-frame buildings are "equal in performance to street and concrete" in multifamily buildings. A study by the Athena Institute for the city of Minneapolis, he added, showed no evidence that wood-frame buildings were being demolished at a pace any faster than steel and concrete buildings.
"So we're perplexed by that," Bland said in a telephone interview with GBA. "We don't believe there is a durability issue with respect to wood buildings. We believe any building exposed to the elements requires maintenance… When properly maintained, we know wood buildings will last hundreds of years. The durability doesn't really pass the sniff test. The fire safety one doesn't pass."
Asked for a reaction to Tolbert's claim that "many cities have instituted a requirement for construction with enhanced quality materials," Bland said, "I would certainly take exception to that statement by the assistant city manager. We honestly do not know of other cities anywhere in the country that have taken a step of this magnitude. There will be certain cities that have fire districts or fire zones, but in terms of a community like Sandy Springs, to my knowledge there's nothing else like it anywhere else in the U.S.
"We just don't understand the problem they're trying to solve with this particular ordinance."
One probable outcome Bland said, will be a slowdown in the pace of multifamily development.
"It's no secret that wood-framed buildings are less expensive to construct on a square foot basis than an equivalent steel and concrete building," he said. "So they are right when they say they want to increase the cost of construction through this restriction. They feel that will slow down growth. The reaction by the development community will be to build less multi-housing in their city."
Advocates for steel and concrete like it
The National Ready Mixed Concrete Association, however, had a much different reaction.
In a report on the Sandy Springs vote, Construction Dive quoted an association spokesman as saying that Sandy Springs was heading in the right direction.
"It's a very simple equation," said Kevin Lawlor, spokesman for the association's Build with Strength initiative, in a press release following the decision. "The stronger the building materials you use, the safer occupants will be. The Sandy Springs Council set an example for the rest of the country."
Rahim Zadeh, technical director for the Steel Stud Manufacturers Association, said that steel-framed buildings don't create the fire hazards that wood buildings do, according to Construction Dive. Plus, he said, steel is straighter and more consistent than wood, and is resistant to termites.
"Steel is more green because of the high recycle content of steel studs," Zadeh told Construction Dive.
Weekly Newsletter
Get building science and energy efficiency advice, plus special offers, in your inbox.