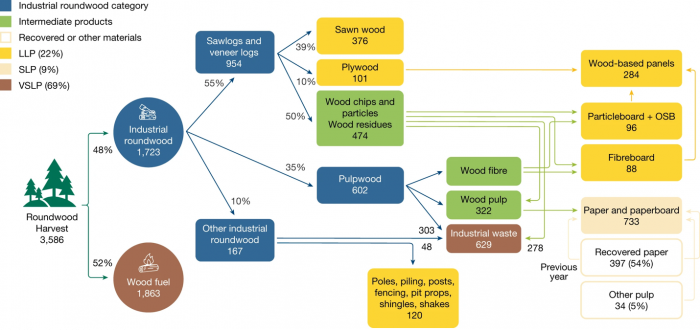 It is conventional wisdom that building with wood has lower carbon emissions than building with steel or concrete. In this post, Dr. Stephanie Taylor, MD, wrote, "If buildings are constructed of wood, not only are the emissions from manufacturing steel and other building materials reduced, the innate carbon-storing property of wood is utilized to benefit decarbonization of the outdoor atmosphere."
There has long been debate about how much carbon is stored or sequestered in wood construction; much depends on how much of a tree actually makes it from the forest to the mill to the building. But the consensus, according to the Mass Timber Report, is that "When wood is chosen over steel or concrete building materials, the net effect is a reduction in fossil fuel use." The rule of thumb is that a cubic meter of wood sequesters a ton of carbon dioxide (CO2).
Another take
However, a new study and report challenges the conventional wisdom. The study,  The carbon costs of global wood harvests, claims that we should not consider the carbon to be sequestered in the building, because "the forest growth and regrowth used to offset the effects of new harvests would happen anyway." In other words, the tree in the forest is already storing the carbon, chopping it down stops the process, and turning it into mass timber doesn't magically store new carbon.
The authors of the study, led by Tim Searchinger of Princeton University, have also written a report, The Global Land Squeeze: Managing Growing Competition for Land for the World Resources Institute (WRI), as well as a summary with the controversial headline, Wood is Not the Climate-Friendly Building Material Some Claim it to Be. I shared their work on Linkedin; the resulting comments range from "It's utter bollocks" to "I'm with most of…
Weekly Newsletter
Get building science and energy efficiency advice, plus special offers, in your inbox.
This article is only available to GBA Prime Members
Sign up for a free trial and get instant access to this article as well as GBA's complete library of premium articles and construction details.
Start Free Trial
Already a member? Log in