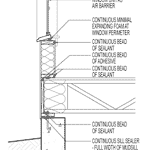 ---
Video Transcript:
Working up in an attic is absolutely no fun at all, especially on a hot day. But this kind of work has to be done. Plumbers and electricians end up putting a lot of holes between the inside of the house and up into the attic, so sometimes we even end up with holes with no wires in them that have never been sealed up. And of course when those guys drill their holes, they always drill a 1-in. hole for a 1/2-in. wire. We've got to fill those gaps up.
Choose the right sealant for the job. That insulation has turned gray or brown, and that's due to the air leaking out of those electrical holes, by the wires, and up and filtering through the insulation, depositing the dust — 24/7, 365, year after year. So, even though they're really small holes, they add up to a big air leak over time. In some jurisdictions, these penetrations require that we use a fire-blocking type of sealant — either a fire-block caulking like this, or a fire-rated foam type of sealant. The caulking is good for real small gaps, but because we've got a pretty good-size hole, even around the wires, we're going to use a spray foam that can expand around the wires and completely fill that void. Another option: if you have this for sealing the top plates of the walls to the drywall, you can use acoustical sealant as well. All three are good choices. I'm going to use the spray foam.
It's easy to do a good job. What I like to do is push the probe down through the blocking to the top plate of the wall, about 2 1/2 to 3 inches, and then I'll…
Weekly Newsletter
Get building science and energy efficiency advice, plus special offers, in your inbox.