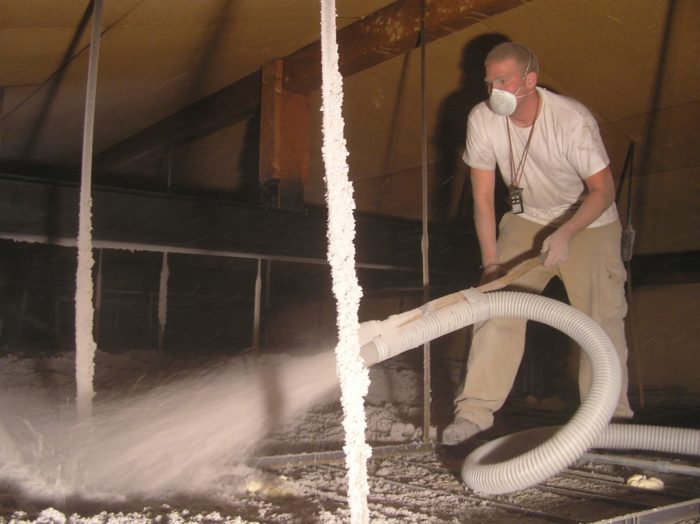 In some parts of the U.S. — notably northern New England — cellulose insulation has been widely used for more than 30 years. In other parts of the U.S., however, cellulose insulation is just beginning to gain traction.
Of course, cellulose insulation is installed with different techniques than those used to install fiberglass batts or spray foam. To help explain these techniques to builders who are unfamiliar with cellulose, we decided to interview Bill Hulstrunk, the technical manager at National Fiber, a manufacturer of cellulose insulation in Belchertown, Massachusetts.
Hulstrunk has worked as an insulation installer, an energy auditor, a weatherization program director, and a trainer. He has presented workshops at national conferences on a variety of topics, including the design of superinsulated buildings, air-sealing techniques, insulation performance, pressure diagnostics, and thermal imaging.
Q. What type of equipment is used to blow cellulose?
Hulstrunk: If you are going to be an installer, you need to own your own blowing equipment, which typically costs from $5,000 to $10,000. We don't recommend that our installers use rental machines.
These machines will be reasonably sized. Typically an installer will show up in a box truck or pulling a trailer. The equipment draws from 15 to 30 amps, depending on the machine. The 15-amp machines can be plugged in, but the 30-amp machines need their own generators.
Q. What is the most important thing to remember when installing loose-fill cellulose on an attic floor?
Hulstrunk: Since you are installing the insulation at a lower density, be sure you do all of the necessary air sealing work beforehand. Air sealing is critical. When homeowners say, "I don't have enough money to do both air sealing and insulation," I tell them, "Then it's better to wait until you have enough money to do the air sealing — otherwise the insulation…
Weekly Newsletter
Get building science and energy efficiency advice, plus special offers, in your inbox.
This article is only available to GBA Prime Members
Sign up for a free trial and get instant access to this article as well as GBA's complete library of premium articles and construction details.
Start Free Trial
Already a member? Log in