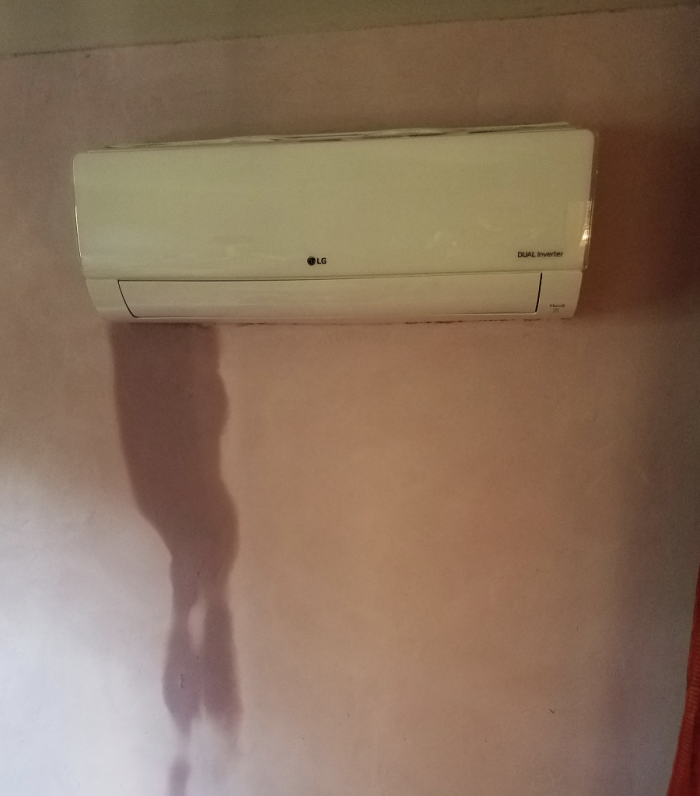 At the start of the cooling season, we sometimes get calls that water is leaking from a ductless heat pump head inside the customer's house and running down the wall. The calls usually come with the onset of hot, humid weather, when our installation and service teams are already stretched thin. Some ductless water leaks can be traced to errors in installation, some to lack of regular maintenance, and some to user behavior. Caught early, ductless water leaks can be prevented and easily fixed. But left unaddressed, they can lead to bigger, more expensive problems.
How it's supposed to work
Air conditioning, whether it's a window unit air conditioner, a ductless head, or a central system, improves summer comfort by cooling and dehumidifying indoor air. With a typical wall-mounted ductless head, warm indoor air is drawn in through an opening near the ceiling. The air passes through a filter, then over a heat-exchange coil. The coil is made of copper tubing; aluminum fins increase the surface area available for heat transfer. Heat from the air moves through the fins and coils and is absorbed by the cold refrigerant inside.
As the temperature of the air drops below its dew point, liquid water condenses on the coils and drips into a drain pan immediately below. From there, the condensate runs out a flexible drain hose supplied with the unit. In the most common configuration, the head is installed on an exterior wall, and the drain opening is on the right rear of the unit. The drain hose exits the unit and passes through the wall on a slight downward pitch. Just outside the wall, the drain hose is coupled to a pipe that descends to just above ground level. When a right-side exit isn't possible, the drain pan…
Weekly Newsletter
Get building science and energy efficiency advice, plus special offers, in your inbox.
This article is only available to GBA Prime Members
Sign up for a free trial and get instant access to this article as well as GBA's complete library of premium articles and construction details.
Start Free Trial
Already a member? Log in