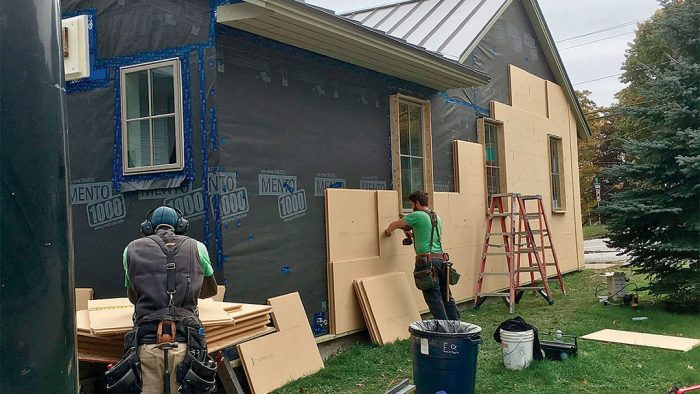 What would you say if you were told that there is a type of insulation made from a renewable resource that performs well and is both water resistant and vapor-open? Plus, it doesn't make you itch, it has zero VOCs, and it has an exceptionally low carbon footprint compared to other insulation materials. You may have heard of wood-fiber insulation board—also called low-density fiber board (LDF)—but you probably haven't used it yet. Maybe you should.
The product was first produced in Europe in the 1930s, but it wasn't until the mid 1990s that it started to penetrate the market. Since that time, it has grown to become a small but significant part of the insulation market, and is starting to gain ground with environmentally-conscious designers and builders in North America.
Wood-fiber board makes use of softwood residual timber, and in Europe it competes with extruded polystyrene (EPS) rigid-foam insulation in price and performance. The imported products available in North America sell at a higher price point, but they are arguably within reason if you consider their features and benefits. Also, costs could drop if they were to be manufactured domestically. Currently, there is at least one company—Maine based GO Lab—looking to build a manufacturing plant in the U.S.
Composition
Wood-fiber insulation and cellulose insulation are made from the same raw material, but cellulose is newspaper, whereas wood fiber comes from softwood chips. According to GO Lab president Josh Henry and marketing director Matthew McConnell, the company is gearing up to produce wood-fiber insulation in a former paper mill in Madison, Maine. They describe the process of making it as similar to making paper. There are two ways to do it—the dry method and the wet method—and each results in a product with different…
Weekly Newsletter
Get building science and energy efficiency advice, plus special offers, in your inbox.
This article is only available to GBA Prime Members
Sign up for a free trial and get instant access to this article as well as GBA's complete library of premium articles and construction details.
Start Free Trial
Already a member? Log in