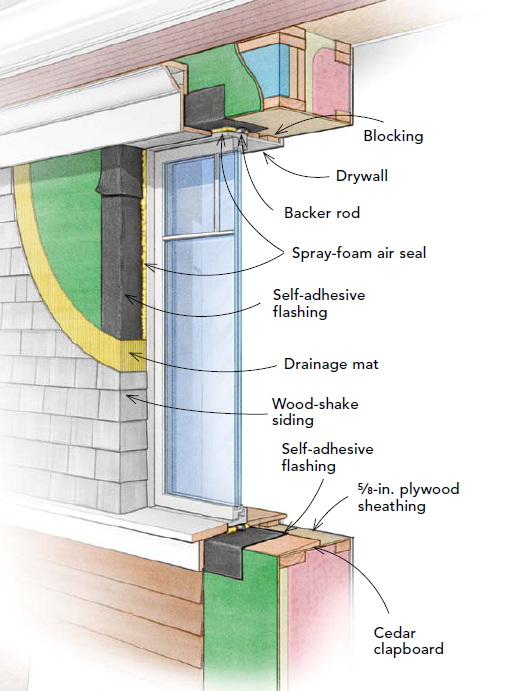 UPDATED on April 3, 2016
Builders in northern states and Canada often specify exterior wall foam for new construction as well as for residing jobs on existing houses. Installing rigid foam on exterior walls reduces thermal bridging through studs and (as long as the foam is thick enough) greatly reduces the chances of condensation in wall cavities. Current trends favor thicker and thicker foam; many cold-climate builders now routinely install 4 or 6 inches of EPS, XPS, or polyiso on exterior walls.
Innies or outies?
Builders installing thick exterior wall foam can install windows two ways: with the window flanges in the same plane as the back of the siding — so called "outie" windows — or with the window flanges in the same plane as the OSB wall sheathing — so-called "innie" windows. Either way will work.
Let's consider a wall with 2×4 studs, OSB sheathing, 4 inches of exterior foam, 3/4-in.-thick vertical strapping, and fiber-cement lap siding. How should the windows be installed?
Outies, step by step
A builder who prefers "outie" windows would do it this way:
Weekly Newsletter
Get building science and energy efficiency advice, plus special offers, in your inbox.
This article is only available to GBA Prime Members
Sign up for a free trial and get instant access to this article as well as GBA's complete library of premium articles and construction details.
Start Free Trial
Already a member? Log in