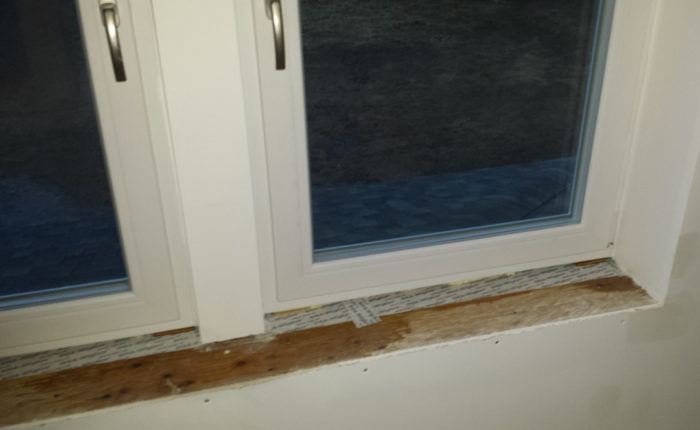 Brian Beaulieu would seem to be well on his way to enjoying a high-performance house in southern Maine. The double-stud walls are 10 1/2 inches thick and insulated with mineral wool. The exterior air barrier is the taped Zipwall system, backed up with airtight drywall on the interior for a second line of defense against air leakage.
Beaulieu has invested in top-quality tripled-glazed Intus windows suitable for Passivhaus designs. And it's here that Beaulieu has run into a problem.
"We've made a few errors which are now rearing their ugly head," he writes in a Q&A post at GreenBuildingAdvisor.
Plywood shims on which the window sits are exposed on the inside, forming (in Beaulieu's words) "a perfect thermal bridge." The shims and now the rough window sills themselves are getting wet, apparently from condensation.
And weep holes on the exterior of the frames were accidentally blocked with tape and trim, causing water to build up in the frames. The weep holes have since been uncovered, and Beaulieu plans on drying out the sills and shims with a heat and a fan.
"We seem to have found the root of our condensation issues," he writes. "Or have we? If not, what else am I missing?"
His window problems are the start of this Q&A Spotlight.
The house will dry out in time
Beaulieu's house is showing typical signs of high humidity in new construction, GBA Senior Editor Martin Holladay writes. "Your house is humid because of construction moisture from the concrete foundation and drywall mud," he says. "After 6 or 12 months, everything will dry out and stabilize."
He adds that it would be cheaper for Beaulieu to turn on a bathroom exhaust fan and let it run 24 hours a day than it would to use…
Weekly Newsletter
Get building science and energy efficiency advice, plus special offers, in your inbox.
This article is only available to GBA Prime Members
Sign up for a free trial and get instant access to this article as well as GBA's complete library of premium articles and construction details.
Start Free Trial
Already a member? Log in