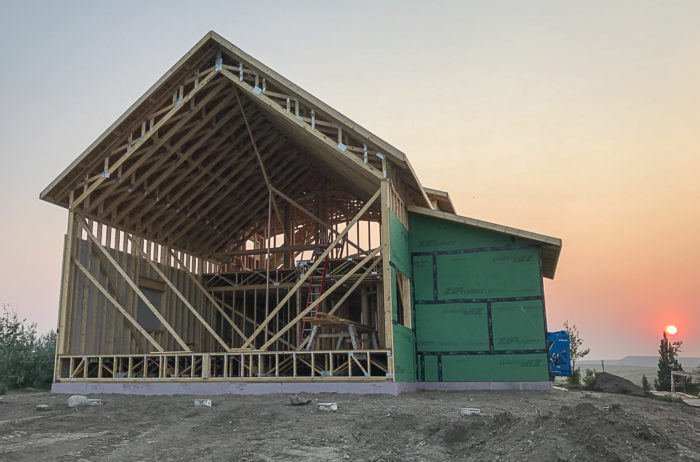 Jeff Smith is building a house in North Dakota and is far enough along to have installed insulated sheathing on the exterior. He's chosen Zip R6 sheathing, a product made by Huber Engineered Woods that combines OSB structural sheathing and rigid foam.
"Our intent was to create a tight, energy-efficient home, and to deaden sound," Smith writes in a post at the Q&A forum. "However, now that we have the sheathing on and are siding, I have read people stating that R-sheathing is not well suited for cold climates and that we should have used a thicker foam and placed it on the exterior side of the sheathing."
His concern is moisture. When a continuous layer of foam on the exterior of a building is too thin, the risk is that moisture making its way through exterior walls will condense and freeze on the inside face of the sheathing during the winter.
"So my question is this: What should we do, at this point, to ensure our walls do not have moisture issues or that they dry appropriately when moisture does enter the wall?" Smith asks. "For what it is worth, the siding is LP Smartside."
That's the topic for this Q& A Spotlight.
Right church, wrong pew
Zip-R can work in Climate Zone 6, but it would have been better to choose Huber's R-12 version rather than the R-6, Michael Maines tells Smith. However, because the inside of the walls is still open, a solution is still very much within reach.
"You can add closed-cell spray foam to the interior to create a flash-and-batt detail. Just make sure at least 35% of the R-value is on the exterior," Maines writes. "A riskier solution that could work (no guarantees) is to install a variable-permeance membrane…
Weekly Newsletter
Get building science and energy efficiency advice, plus special offers, in your inbox.
This article is only available to GBA Prime Members
Sign up for a free trial and get instant access to this article as well as GBA's complete library of premium articles and construction details.
Start Free Trial
Already a member? Log in