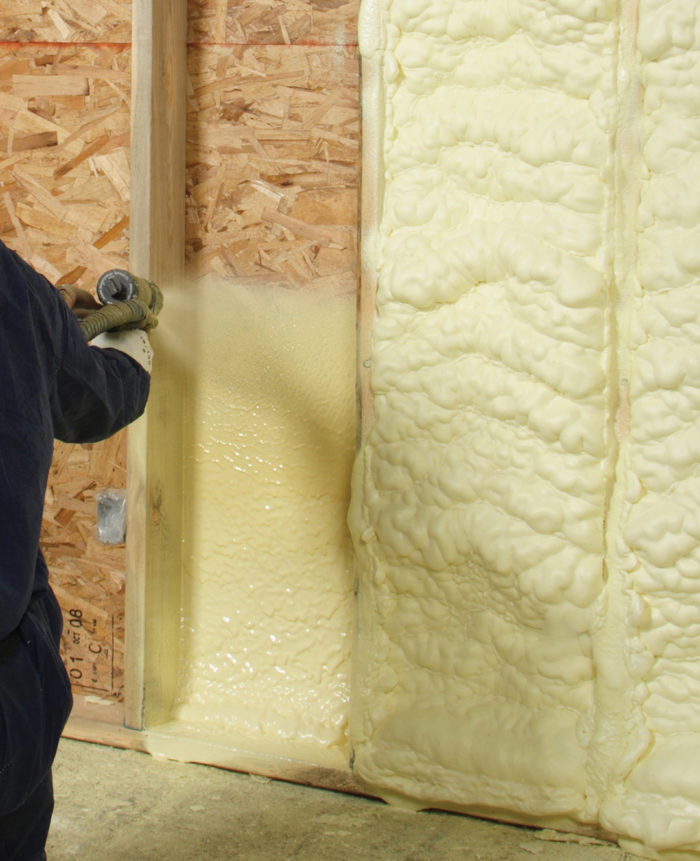 Open-cell spray foam has an R-value of about R-3.7 per inch, while closed-cell spray foam has an R-value that may be as high as R-6.5 per inch. If you want to install spray foam in a stud wall, and price is no object, then it would seem to make sense to specify closed-cell spray foam, right?
Not necessarily.
Dense spray foam is installed differently
Builders and homeowners are often surprised to learn that there isn't much difference in whole-wall R-value between a stud wall insulated with open-cell spray foam and closed-cell spray foam.
To understand why, we need to start by discussing the "trimmability" of cured spray foam.
Closed-cell spray foam is so dense that it is difficult to trim. That's why installers of closed-cell spray foam never fill a framing cavity completely. In a 2×4 wall, the installer will usually stop at a maximum depth of about 3 inches instead of 3.5 inches, leaving the typical bumpy surface of cured foam. This type of installation doesn't need to be trimmed.
Open-cell spray foam isn't as dense, so it's easy to trim. Installers of open-cell spray foam will fill a 3.5-inch-deep cavity completely, allowing the foam to expand until it is proud of the studs. Once cured, the soft foam is easily trimmed flush with the studs (see illustration below).

With open-cell spray foam, the sides of the studs (above) are not as exposed as they are in a wall insulated with closed-cell spray foam (below), and this fact reduces the thermal bridging penalty.

With closed-cell spray foam, the exposed sides of the studs (the portions that extend inwards beyond the 3 inches of foam) make the thermal bridging penalty worse.
Whole-wall R-values
To calculate the whole-wall R-value of a wall, we have to divide the wall into areas…
Weekly Newsletter
Get building science and energy efficiency advice, plus special offers, in your inbox.
This article is only available to GBA Prime Members
Sign up for a free trial and get instant access to this article as well as GBA's complete library of premium articles and construction details.
Start Free Trial
Already a member? Log in