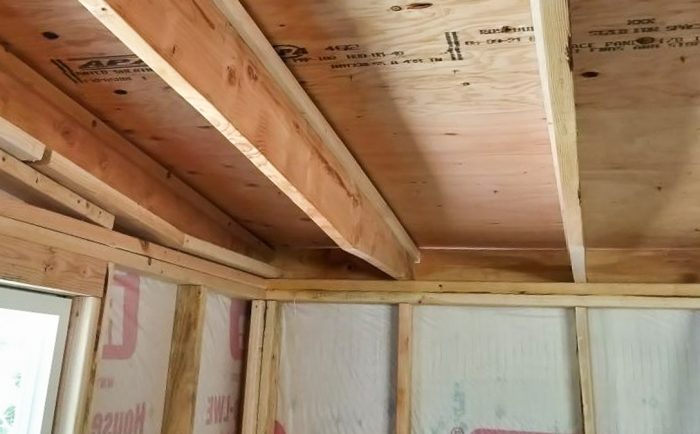 Marrahb is looking forward to a year-round gym and office in the form of a newly built 12-ft. by 20-ft. shed, but first there is the question of how to insulate and vent the roof.
The shed is located in Washington State near Puget Sound, climate zone 4C, with a roof framed with 2x10s on 24-in. centers. In a recent Q&A post, Marrahb lays out her plans for finishing the roof with a goal of getting to an insulation level of R-38.
Under the metal roofing will be a 2-in. air gap, followed by 4 in. of rigid foam (unfaced), then 3 1/2 in. of fiberglass insulation, then gypsum wallboard.
"Is the above a good option overall?" Marrahhb asks. "Or are there better options (outside of spray foam) for this zone?
She wonders whether she should be using faced or unfaced fiberglass batts, or whether the rigid foam should be faced. "I have seen variations of this where the foam layer is faced along with the last fiberglass layer," she says. "But that seems like it would trap moisture to me. Should I completely seal the first two layers of foam (tape seams, foam edges, etc.), or let the whole system breathe?"
There also is the question of vents. Marrahb proposes 2-in. vent holes in the soffit aligned with the 2-in. air gap at the low and high side of each rafter bay. However, it's not clear how many vents should be added.
One thing we do know: The metal roofing has been installed, so there's no opportunity here to put insulation above the roof sheathing. The rest of Marrahhb's plan is the topic for this Q&A Spotlight.
Skip the foam layer
Akos suggests that Marrahb skip the rigid foam because it's not contributing much…
Weekly Newsletter
Get building science and energy efficiency advice, plus special offers, in your inbox.
This article is only available to GBA Prime Members
Sign up for a free trial and get instant access to this article as well as GBA's complete library of premium articles and construction details.
Start Free Trial
Already a member? Log in