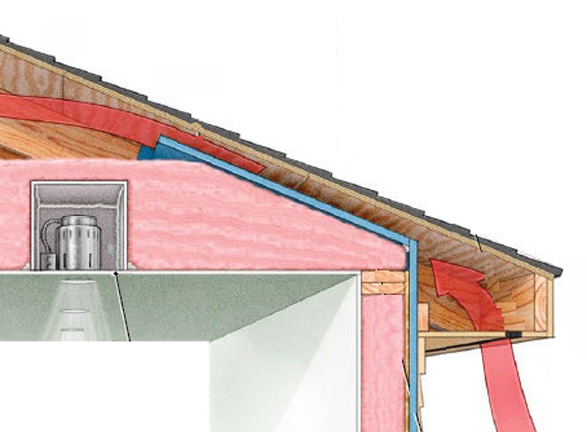 In most of the U.S. — everywhere but Climate Zone 1 — building codes require the installation of ceiling insulation rated at R-38 or R-49. Achieving these R-values with cellulose or fiberglass requires at least 11 inches of insulation for R-38, or 14 inches for R-49.
These R-value targets are fairly easy to meet for a new house, as long as the designer and builder plan ahead. (For more on new homes, see "Raised-Heel Trusses Make Better Enclosures.") But owners of older homes — homes built before thick ceiling insulation was code-mandated — often discover that the attic lacks enough room near the eaves to accommodate minimum amounts of insulation. In many cases, the vertical distance between the top plates of the exterior walls and the underside of the roof sheathing is only 6 or 7 inches.
This problem can occur in homes with almost any roof configuration, including those with an attic above a horizontal ceiling as well as those with a cathedral ceiling framed with 2×6 or 2×8 rafters.
"It's good enough"
It's common for owners of older homes to post questions on GBA about installing attic insulation. A typical question might read, "When I visited my attic, I found that the attic floor has only 6 inches of insulation. I want to add enough insulation to achieve R-49, but there isn't enough space between the top plates of the exterior walls and the roof sheathing. What should I do?"
For decades, the typical "solution" to this problem was to install ventilation baffles near the eaves — connecting the air space above the soffit vents with the attic — and then to install as much fluffy insulation (usually fiberglass or cellulose) as there was room for between the top plate of the exterior wall and the ventilation baffle. In other words, call it "good enough" and…
…
Weekly Newsletter
Get building science and energy efficiency advice, plus special offers, in your inbox.
This article is only available to GBA Prime Members
Sign up for a free trial and get instant access to this article as well as GBA's complete library of premium articles and construction details.
Start Free Trial
Already a member? Log in