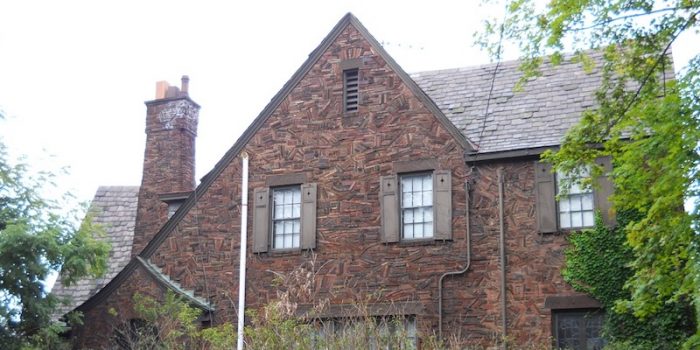 Ever have the smell of your fireplace inside your home? It's not uncommon. Here's a question I got from a reader named Rob last month:
We always have a smoke smell from our fireplace, more on some days than others. I had the chimney cleaned really well and the damper closed and it was fine. Then we just built our first fire since cleaning this weekend and the smokey smell is back. It has a metal damper in the firebox. I assume somehow negative pressure is forcing air back down the chimney especially when we run bathroom fans or the dryer I suspect.
What's going on here?
Do you have negative pressure?
Rob suspects negative pressure is behind the fireplace smells in his home. First, when we talk about negative or positive pressure, we're talking about the pressure difference between two places, usually indoors and outdoors. A negative pressure in the house means the indoor pressure is lower than the outdoor pressure, which can cause air to move from outdoors to indoors. (But that infiltrating air needs a pathway to do so.)
It's quite easy to find out if a house is indeed running a negative pressure. All you need is a manometer, and the nice ones cost over $1000. You could get one with lower precision and spend less than $100. You also could use a magnehelic gauge for less than $100.
Or you could do it the easy way. With the house operating at what you suspect is a negative pressure, go to a door and open it just a bit. If you stand inside and put your face near the crack in the door, you'll feel the air blowing on you if there's a negative pressure. You can feel it with your fingers, too, and it works even better if you lick them (part of what Joe Lstiburek calls the "look, lick, and squirt test"). If you still can't feel any air movement through that opening after you lick your fingers, you don't have enough negative pressure to worry about, at least not right there.
The 3 causes of pressure differences in buildings
Three factors are responsible for pressure differences in buildings:
Wind
Stack effect
Mechanical systems
Wind, of course, can create pressure differences between inside and outside. Hurricanes and tornadoes can induce pressure differences big enough to blow the roof off of a house. That's why building codes require hurricane straps in high-wind areas.
Stack effect is a density-of-air phenomenon. Warm air is less dense and thus rises when surrounded by cold air. That can create some pretty big pressure differences, as you can see in the video below.
And then there's the wild card of mechanical systems. Exhaust fans in your bathrooms and kitchen, of course, will induce some negative pressure. The more airtight the house, the bigger that negative pressure will be. Let's put some numbers to that idea.
My house currently has a blower-door test result of 5200 cu. ft. per minute at 50 Pascals of pressure difference (5200 cfm50). That's pretty high, but it's a 3800-sq.-ft. house built in 1961, and it was close to 7000 when I bought it last May. But let's get back to the main point. With an air-leakage rate of 5200 cfm50, my house won't show much of a negative pressure if I turn on a 50-cfm bath fan. It takes 5200 cfm to induce a 50-Pa pressure difference, so 50 cfm will barely register.
At the other extreme, some Passive House projects have air-leakage rates of 100 cfm50, or even lower. Two 50-cfm bath fans would induce a 50-Pa pressure difference across that house. That's a lot of negative pressure, which is why Passive House designers and builders worry so much about the mechanical systems they use.
Other mechanical systems that can create pressure differences are clothes dryers, heating and air-conditioning ducts, powered attic ventilators, portable air conditioners, and supply-only ventilation systems. Atmospheric combustion appliances draw in air from the space around the appliance and send it up the flue, but that's generally small compared to the pressure differences created by the others I listed.
Finding the source of negative pressure
If you suspect negative pressure is causing problems, the first thing to do is figure out which of the three causes of pressure difference is most likely to blame. Does the fireplace smell (or whatever symptom you notice) occur only when it's windy outside? You can't stop the wind, but you can see about eliminating the pathways for air to move.
Does it happen only when it's cold? If so, the stack effect may be to blame because it increases with temperature difference and most places have bigger temperature differences in winter. But you also run the heat when it's cold, so it could be unbalanced duct leakage.
To determine if mechanical systems are inducing a significant negative pressure, turn on the one(s) you suspect and do the cracked-door test again. Then turn them off and see if there's a difference. That also works for pressures induced by unbalanced duct leakage. Do the door test with the heating system on and then again with it off.
If you have the fireplace smell in your house like Rob does, finding the source of the negative pressure and reducing it should solve the problem. You don't want to stop using bath fans, range hoods, and clothes dryers, though, so keeping the damper closed when the fireplace isn't being used should help.
Remember: You need both a pressure difference and a pathway to have air movement, so eliminate one or the other or both and you solve the problem.
–Allison Bailes of Decatur, Georgia, is a speaker, writer, building science consultant, and the author of the Energy Vanguard Blog. You can follow him on Twitter at @EnergyVanguard. Photo courtesy of the author.
Weekly Newsletter
Get building science and energy efficiency advice, plus special offers, in your inbox.