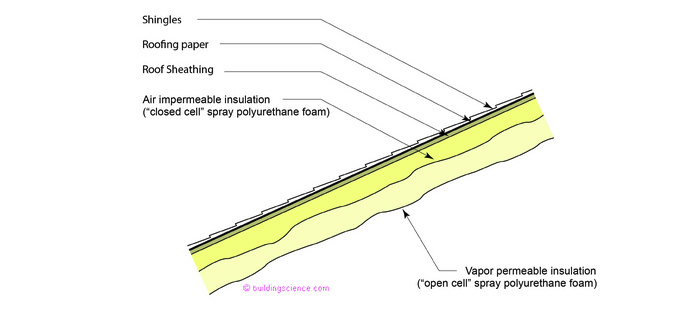 Build_ny (we'll just call him Build) is planning a new house in climate zone 6, and among the quotes he's received is one from an insulation contractor who'd like to use both open- and closed-cell spray polyurethane foam in both the walls and the roof.
Build says he needs to hit R-25 in the exterior walls, and R-49 in the roof. To get there, the contractor wants to use 1 1/2 in. of closed-cell foam and 4 in. of open-cell foam in the walls, with 3 in. of closed-cell and 7 in. of open-cell foam in the roof.
These two types of polyurethane foam are similar chemically but have different properties. Open-cell foam has lower R-values and allows the transmission of some water vapor. It's also cheaper. The difference in vapor transmission is an important distinction, and this has Build wondering about the contractor's proposal.
"I guess I'm worried about creating a dew point in the wall cavity," Build says in this recent Q&A post. "Could either of these lead to that?"
That's where we start this Q&A Spotlight.
Beware of declining R-values
The R-value of closed-cell foam declines over time, says Michael Maines, and it would be a mistake not to take that into account. When first installed, closed-cell foam can be rated at about R-7 per inch, he says, but that will fall over time to about R-5.5 per inch (to reach what's called its aged value). Maines adds that open-cell foam has an R-value of R-3.6 per inch, which should remain constant over time.
"More important is long-term resistance to moisture accumulation, for which you should use the aged values," Maines says. "Using those values, your walls have about 36% of the total R-value in the impermeable (closed-cell) layer, which…
Weekly Newsletter
Get building science and energy efficiency advice, plus special offers, in your inbox.
This article is only available to GBA Prime Members
Sign up for a free trial and get instant access to this article as well as GBA's complete library of premium articles and construction details.
Start Free Trial
Already a member? Log in