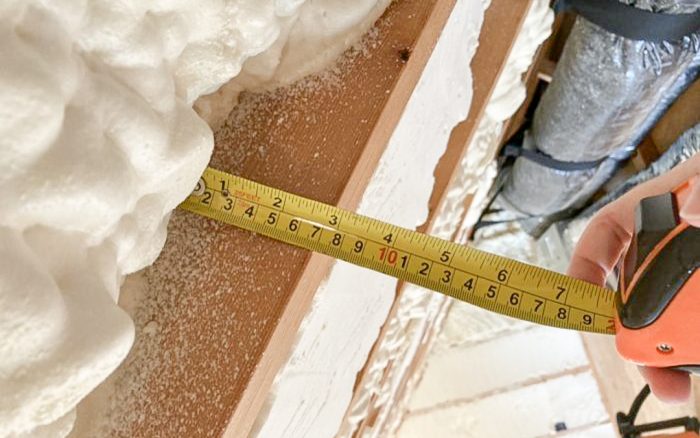 Aun Safe settled on spray polyurethane foam as the best way to turn his attic into a conditioned space. Although the open-cell foam between the 2×8 rafters would not be enough to get the attic to R-38, it was the best Aun Safe could do at the time.
"My question is whether I got what I paid for," Safe writes in a Q&A post. The house is in the Southeast, between Climate Zones 3 and 4, where code requires attic insulation of R-38 and R-49 respectively.
The foam installer said there would be an average of 6 inches or 7 inches of foam in each rafter bay. But as Aun Safe explains, and photos of the job show, at least 30% of them are under-filled by 3 inches or more, meaning there is less than 4 inches of installed foam in those bays.
"I reiterate that this is not some small number of rafter bays," he writes, "in which case I would just ignore it. It's close to half of the rafter bays that have noticeable areas of significantly less than 6-inch foam depth."
He guesses that the installers were just trying to save themselves the trouble of trimming back excess foam.
"Should I care?" he asks. "Is this reasonable? I simply don't know what typical industry expectations should be for this sort of work, and I don't want to complain unless a complaint is warranted (I am otherwise happy with the work that they did.)"
Does this fall within normal limits, or is it a problem that Aun Safe will have to pursue with the installer? That's where we start this Q&A Spotlight.
Is it open- or closed-cell foam?
There are two main types of polyurethane spray foam: open- and closed-cell. They are of different densities, have different insulating…
Weekly Newsletter
Get building science and energy efficiency advice, plus special offers, in your inbox.
This article is only available to GBA Prime Members
Sign up for a free trial and get instant access to this article as well as GBA's complete library of premium articles and construction details.
Start Free Trial
Already a member? Log in