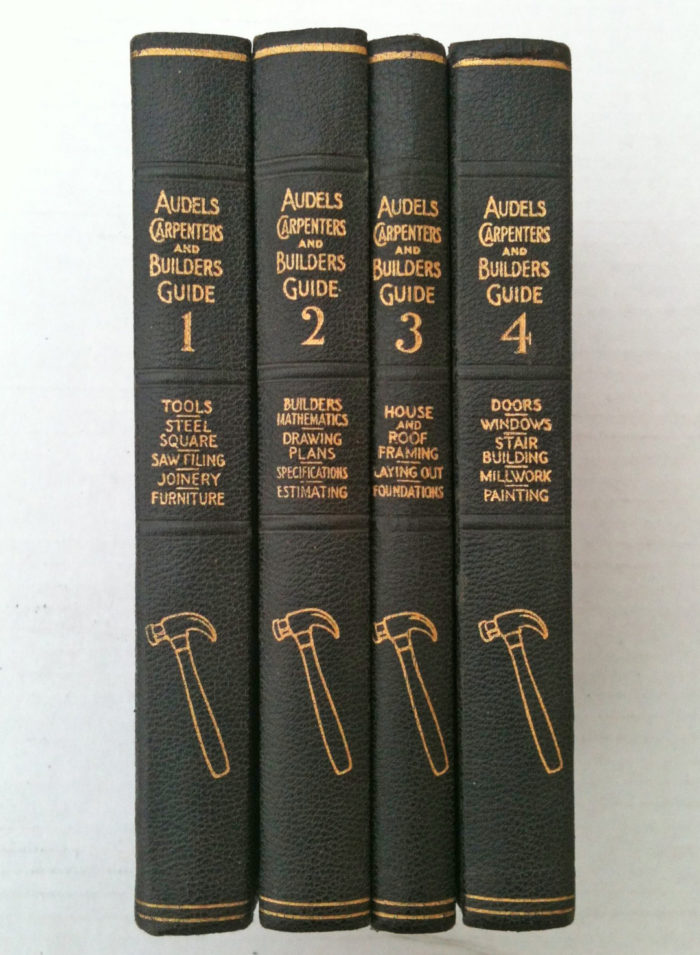 Up until the mid-1950s, almost every American carpenter had heard of Audels Carpenters and Builders Guide. Even carpenters who didn't own all four volumes of the book series had probably studied the Audels books at some point in their careers, or knew someone on the job site who had copies of the books.
In a way, the Audels Guide was the Fine Homebuilding of the 1930s and 1940s. It instructed beginners in the right way to do things; it upheld standards; and it promoted quality work.
First published in 1923, the guide was updated in 1939, 1945, and 1951. As U.S. builders made the transition away from post-and-beam framing to stick framing, Audels dragged its heels, entering the new era with great reluctance. Even in its 1951 edition, the series insisted that a quality building needed a post-and-beam frame with mortise-and-tenon joints.
In an online essay, Tedd Benson credited the Audels books for inspiring his love for the construction method that became Benson's focus for decades: "Reading the old Audels was, in fact, the first time I became enamored of timberframing. That edition had good illustrations and reasonably good instructions about joinery and particular framing techniques."
The 1951 edition of Audels, which I own, advised readers that stick framing was inferior to post-and-beam construction. The books refer to stick framing as "balloon framing," whereas post-and-beam construction (timber framing) is called "full framing."
According to Audels, a "full frame" consists of "heavy and solid timbers fastened together with mortise and tenon joints secured by pins," while a balloon frame "is a cheap and as usually put together a more or less objectionable construction. … Since the balloon frame is a type which invites poor work and a certain class of builders cannot resist such a temptation, it has a bad reputation."
The Audels authors'…
Weekly Newsletter
Get building science and energy efficiency advice, plus special offers, in your inbox.
This article is only available to GBA Prime Members
Sign up for a free trial and get instant access to this article as well as GBA's complete library of premium articles and construction details.
Start Free Trial
Already a member? Log in