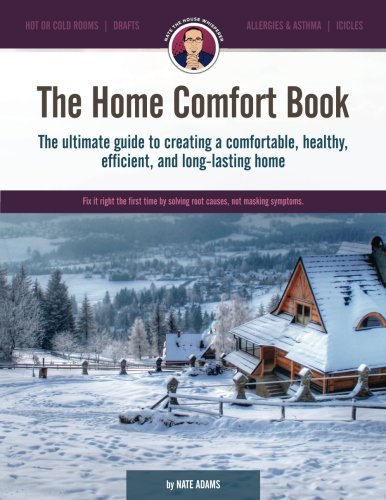 Long-time readers of GBA are familiar with Nate Adams. He's the home-performance contractor who has published several opinionated blogs on GBA, including "The 'Low-Hanging Fruit' Fallacy" and "Hard Truths of Home Performance."
Nate Adams recently published a book called The Home Comfort Book. This is a valuable volume that is well worth reading, in spite of its quirks and controversial opinions.
The Home Comfort Book focuses on weatherization work and energy-retrofit work in existing homes, not on new construction. Adams has a great deal of experience at this type of work, so he is realistic in his assessments and promises. For example, he notes, "Fixing comfort [problems] in consistently hot or cold rooms is a surprisingly difficult task. Don't let anyone tell you otherwise." He also reminds readers that "Perfection is an impossible goal."
His book includes a cartoon illustration showing two possible paths: "simple but wrong" and "complex but correct."  He tells potential customers, "We are in the business of complex but correct."
Adams correctly notes that potential energy savings are limited by the fact that most homeowners have annual energy bills that aren't particularly large. What can a homeowner expect from a successful retrofit job? Adams writes, "Typical [energy] savings are usually in the $200-700/year range, even for advanced projects. … If you only want to save money, don't embark on this process. It's a waste of time and money."
Like many home-performance contractors, Adams is a fan of closed-cell spray foam. He writes, "We specify 3.5-inch closed-cell spray foam in many of our projects … Spray foam continually shocks me at how well it performs at only a few inches thick." Elsewhere, he notes, "I became a big fan of closed-cell spray foam. It's not cheap, but it consistently delivers great results…
Weekly Newsletter
Get building science and energy efficiency advice, plus special offers, in your inbox.
This article is only available to GBA Prime Members
Sign up for a free trial and get instant access to this article as well as GBA's complete library of premium articles and construction details.
Start Free Trial
Already a member? Log in