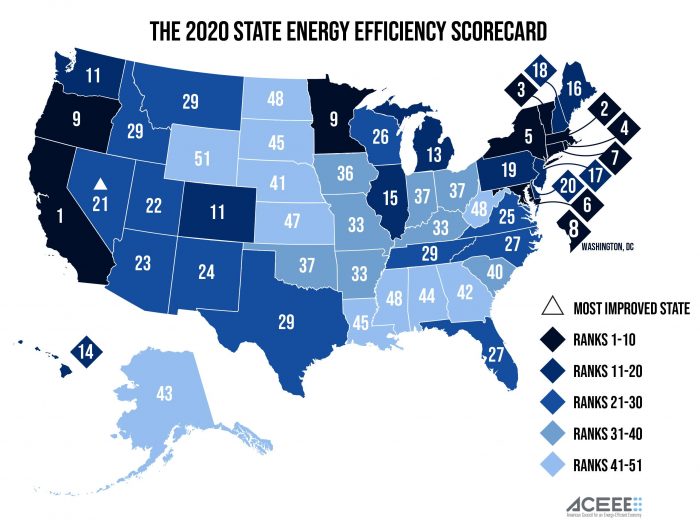 Clean energy, including energy efficiency, has struggled to maintain momentum in a year marked by a global pandemic, racial and social unrest, economic hardship, and subsequent recession. While 2019 saw states adopting ambitious climate goals, 2020 forced governments at all levels to shift priorities to manage the enormous health and economic fallout from COVID-19. However, a new scorecard from the American Council for an Energy-Efficient Economy (ACEEE) points to some bright spots.
The annual ACEEE analysis shows several states adopted energy-saving targets and vehicle or appliance rules that will lay the groundwork to scale up efficiency programs, such as insulating buildings or replacing energy-guzzling appliances. However, while some states are making progress, the scorecard also shows there is still much work to do to ensure that the investment in—and benefits of—efficiency are distributed equitably.
Why is energy efficiency important?
Racial injustice, climate-amped catastrophic wildfires and hurricanes, and the pandemic have highlighted long-standing, deep societal inequities while exposing the high cost of the climate crisis and the vulnerability of communities that are predominately lower income or home to Black, Indigenous, and other people of color. While energy efficiency—using less energy to keep our lights and heat on—cannot solve all of the world's problems, it is an important part of the answer.
But this can only happen when policies not only target the biggest polluters, but also ensure sufficient investment in efficiency programs is allocated to meet the needs of under-resourced people and communities that have historically been left behind. When done well, equitable efficiency policies can capture energy savings from all sectors and help alleviate high energy costs, improve air quality, build a path to high-quality jobs, and significantly cut climate pollution.
In the last few decades, efficiency has created a cleaner, more affordable and productive economy. Investments in efficiency programs since 1980 have saved consumers nearly $800 billion per year in energy costs, and lowered energy consumption and emissions by 60%.
Such savings are crucial and can free up money for other necessities, as one in five households foregoes necessities like food and medicine to pay their energy bills. Efficiency also avoids unhealthy power-generation pollution that has a disproportionate impact on communities of color.
How did the states rank?
For the first time in four years, California bested Massachusetts as the country's efficiency leader in ACEEE's 2020 Scorecard. Massachusetts was second, followed by Vermont, Rhode Island, New York, Maryland, Connecticut, and Washington, D.C., with Minnesota and Oregon tied for number nine.
Most improved went to Nevada, which continued its momentum on utility-sector savings with stronger efficiency goals set through 2021. It also adopted standards for light bulbs, strengthened building energy codes, and implemented strong vehicle standards. Iowa, in contrast, fell farthest in the rankings, plummeting 13 places (to 36th), mostly as a result of 2018 legislation that capped certain efficiency investments and allowed customers to opt out of paying for programs designed to curb electricity and gas consumption.
Who did what?
The scorecard evaluates four areas where states can cut energy consumption.
Appliance Standards
As the federal government stymied efficiency progress, states stepped up. California broadened the scope of its light bulb standards to address bulbs no longer covered under federal standards, and adopted standards for replacement pool pump motors and spray sprinkler bodies.
New York updated its water efficiency standards for faucets, showerheads, toilets, urinals, and drinking fountains, and anticipates it will reduce water use by 3.7 billion gallons in 2025 and 11.3 billion gallons by 2035. Oregon passed sweeping new standards for products ranging from grid-connected water heaters to portable electric spas.
Building efficiency
Several states adopted strengthened residential building energy codes, including Delaware, New Mexico, Vermont, New York, Nebraska, New Jersey, Illinois, Massachusetts, Maryland, and Nevada.
States and communities are also moving toward net-zero energy standards for new and existing construction, which means the buildings must produce at least as much energy as they use.
This includes D.C.'s zero-energy code path, Oregon's requirement for zero-energy home equivalence by 2023, and Washington's goal for a 70% reduction in energy consumption in new residential construction by 2030.
California is not only mandating that its new homes be super-efficient, it requires rooftop solar systems for most new construction. Active zero-emissions plans are now in place in Vermont, Rhode Island, the District of Columbia, New York, and Massachusetts.
Utility and Public Benefits
Rhode Island, Massachusetts, Maryland, and Vermont adopted standards requiring utilities to meet a certain percentage of their customers' energy needs through efficiency improvements. They report savings that equal 2% or more of the amount of electricity they sell, which is the highest levels in the country.
However, the scorecard offers little insight into how well states are ensuring equity in their efficiency programs, making it difficult to fully evaluate their overall progress. Policies and utility funding for low-income programs receives 1 of 20 points in this section. Allocating just 1 point does not provide a full view of how states are prioritizing equity in their efficiency programs. Even so, only about half of the country achieved even 1 point. Giving equity more prominence in the rating process would provide a better assessment of overall state progress.
Washington became the most recent state to adopt California's vehicle-emissions standards, with Nevada, New Mexico, and Minnesota signaling their intent to follow.
What's next?
In each area, it is equally critical to evaluate how successful state policies and investments are in serving those most in need, such as lower income communities and people of color. We continue to face unprecedented times, making efficiency one component of a much-needed broader approach to build back better in an equitable manner to ensure everyone enjoys clean air, healthy and comfortable living environments, quality jobs, and affordable energy. Even as the federal government heads in a new direction under President-elect Joe Biden, states will continue to pave the way for a cleaner and more equitable future.
---
Lara Ettenson is director, energy efficiency initiative, climate & clean energy program at the Natural Resources Defense Council. This post originally appeared at the NRDC Expert Blog.
Weekly Newsletter
Get building science and energy efficiency advice, plus special offers, in your inbox.