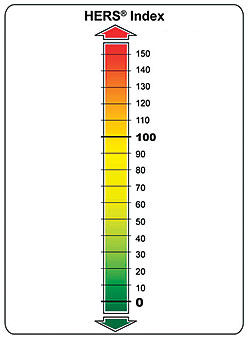 The Massachusetts Board of Building Regulations and Standards this week approved an amendment to the statewide building code that will allow municipalities to adopt stricter code requirements for both residential and commercial buildings.
The amendment, often referred to as the "stretch" energy code but officially known as Appendix 120AA, was approved on May 12 by the BBRS for inclusion in the 7th Edition Massachusetts Building Code 780 CMR, which will be based on the recently published 2009 International Energy Conservation Code.
Because Massachusetts law doesn't allow municipalities to diverge from the state code, approval of the stretch code adds a greener option to the state's minimum energy efficiency requirements.
Single-family and multifamily homes built in jurisdictions that adopt the stretch code will need to be third-party certified for a HERS index rating of 60 or less. The current base energy code in Massachusetts requires a minimum HERS rating of 99. For major renovations under the stretch code, a HERS index of 70 or less is required; the requirement drops to a HERS rating of 85 or less where existing heating systems are retained.
Local skirmishes ahead
The stretch code option is heavily favored by green construction advocates, but a disappointment for groups such as the Home Builders Association of Massachusetts. As GBA noted in a news article from April 22, HBAM mounted a campaign against the measure, citing concerns that it would disrupt the uniformity of the state code, make code enforcement more difficult and confusing, and add about $10,000 to the cost of a typical three-bedroom home.
Stretch code advocates, including Paul Eldrenkamp, owner of green renovation specialist Byggmeister Inc., based in Newton, Massachusetts, pointed out that while the amendment is a step in the right direction, it is still "pretty tepid in terms of what we need to address."
Of course, the stretch code conflict is hardly resolved, merely shifting to municipal turf.
Judy Jenkins, incoming HBAM president and owner of Can-Four Corp. in Canton, told the Boston Herald that the stretch code opened "the door to NIMBYism" – residents' not-in-my-back-yard reaction to development projects in their vicinity.
"It's very, very unfair," Jenkins said.
"I can't believe it," David Begelfer, president of NAIOP Massachusetts (formerly known as the National Association of Industrial and Office Properties), complained to the paper. "Does anyone look out the window? There's a recession going on, and we're adding to the cost of doing business here."
Click here for an overview of the amendment; click here for a PDF of the amendment's final language.
Weekly Newsletter
Get building science and energy efficiency advice, plus special offers, in your inbox.